Philippine Billionaire Razon Seeks Casino Growth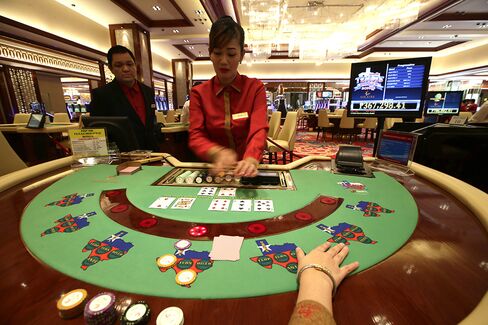 Philippine billionaire Enrique Razon wants to use his Manila casino venture as a springboard to expand overseas, replicating the strategy that made his family's port company one of Southeast Asia's largest operators.
Razon, who parlayed a Manila port franchise his family obtained in 1988 into a company with operations in 18 other countries, is interested in markets with established rules for gaming licenses, such as Macau and parts of Latin America.
"We just have to build the brand," Razon said in an interview in Manila yesterday. He expects Macau's government will allow new entrants into the world's largest gambling hub in 2020 as existing licenses start expiring.
Bloomberry Resorts Corp., Razon's first casino venture, started operating the $1.2 billion Solaire casino resort in March with one of four licenses issued in Manila to build a gaming and entertainment hub and compete with Macau and Singapore. Macau's gaming revenue surged 14 percent to $38 billion last year driven by Chinese tourists, while Singapore drew $6 billion.
Bloomberry is the Razon family's first foray into gaming since his father quit from a venture with Macau casino mogul Stanley Ho on Manila's floating casino during the time of the late dictator Ferdinand Marcos.
International Container Terminal Services Inc., a company Razon started with his father in December 1987, won a franchise to operate the Manila International Container Terminal in 1988, beating six other competing groups in the Philippines' first port privatization.
ICTSI, as it is locally known, is the country's biggest operator. After making bids for foreign port companies, ICTSI now has ventures from India to Colombia and Argentina.
"He will have a harder time expanding his casino ventures overseas," said Alex Pomento, strategist at the Manila unit of Macquarie Group Ltd. "Mr. Razon's expertise is with ports, a business that has no correlation with gaming."
Latin America
The port business in Latin America may end up helping with the casino expansion, according to Razon. "We have the advantage there because we are the biggest port operator there. We know the landscape," he said.
Solaire's VIP gaming business is doing better than expected and its section for high-stake gamblers is "filled up," Razon said. The casino has attracted 30 junket operators, he said, referring to the firms that provide credit and help organize trips for mainland Chinese and other Asian bettors visiting overseas casinos.
Razon has so far spent $700 million to build Solaire's first phase that opened earlier this year and will spend another $450 million for its expansion. Those investments could be recovered in five years, he said.
International Competition
In his ambitions to expand in the casino industry, Razon faces competition from local and overseas rivals. Only six gaming operators, including Sands China Ltd. and Wynn Macau Ltd., currently have licenses to operate in Macau.
In the Philippines, Henry Sy, the richest local tycoon, and his partner Melco Crown Entertainment Ltd., are scheduled to open a $1.3 billion gaming complex in the Manila hub in the second half of 2014. A venture of Japanese billionaire Kazuo Okada and a fourth casino in the Manila complex by Philippine billionaire Andrew Tan and Genting Hong Kong Ltd. are expected to open between 2015 and 2017.
Razon might be able to pull off a surprise on his overseas expansion plans, said Pomento, the strategist. "This will depend on how he and his partners will do with their casino in Manila," he said.
Before it's here, it's on the Bloomberg Terminal.
LEARN MORE