Hip Cabaret For Patti LuPone Fans Seeks Cash Infusion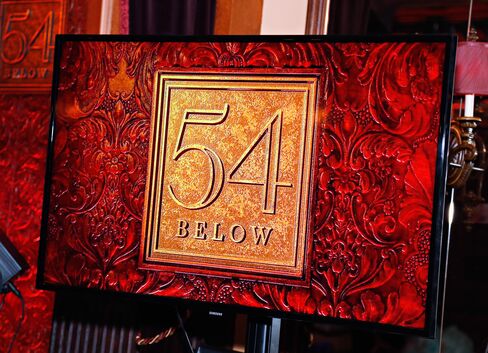 The owners of 54 Below, a grotto nightclub that in a little more than a year has become a favorite of Broadway divas and night crawlers, have told potential investors they need $600,000 "if we're to survive."
Four veteran Broadway producers opened the club in June 2012 in the basement of Studio 54, the storied discotheque-turned-Broadway house.
They were betting that a hip, Theater District venue drawing on stage stars could expand the nightclub audience despite the recent shuttering of two of the city's most long-lived cabarets.
In the past 18 months, Feinstein's closed at the Loews Regency Hotel and the Algonquin Hotel's Oak Room said goodbye after 32 years. (John Iachetti, director of entertainment at Feinstein's, said there are plans to reopen that club at another New York hotel next year.)
Capitalized at $3.75 million, 54 Below LLC months ago set out to raise a $2 million loan, citing construction overruns and operating losses.
"To date we have raised $1.4 million and we need to raise the remaining $600,000 if we're to survive," the partners wrote in a letter to Broadway insiders obtained by Bloomberg News.
Patti LuPone
Richard Frankel, one of the partners, said yesterday that since the letter went out in mid-July, they have raised $400,000 of the $600,000.
"We have no doubt that the remainder will be raised just as quickly," he said in an interview.
From Patti LuPone and Laura Benanti to Victor Garber and Matthew Morrison, the 150-seat venue has been a magnet for Broadway talent and audiences who didn't have to pay Broadway premiums to hear them.
With music charges generally from $25 to $60 and an excellent, modestly scaled menu, prices may have been unrealistically low.
54 Below "has been a financial challenge since day one," wrote the partners, who include Frankel, Tom Viertel, Steve Baruch and Marc Routh.
"Over the past year, although we've made many improvements in programming, audience building and in revenue capture, we've lost money consistently."
According to 54 Below's initial offering, 54 Below LLC originally accepted minimum investments of $15,000. Construction was estimated to be $1.5 million. The budget for consultants, including Daniel Meyer's Union Square Hospitality Group, was $402,000.
The partners, who have presented shows on and off-Broadway since the mid-1980s, estimated the club could break even at 46 percent of capacity. At full capacity or revenue of $12.2 million annually -- unlikely even in the best of circumstances - - they estimated being able to repay investors after 36 weeks.
Celebrity Cruises
Instead, they have waived management fees and spent almost $600,000 of personal funds to cover operating losses and obligations.
The 54 Below partners said they're hopeful that real-estate development across 54th Street, private events and a tie-in with Celebrity Cruises will bolster their bottom line.
Achieving profitability, they said, "is now primarily a matter of raising the guests' per capita spend by about $10 to $12 from an aggregate of cover charges and food and beverage purchases."
Muse highlights include James Clash on adventure and Catherine Hickley on music.
Before it's here, it's on the Bloomberg Terminal.
LEARN MORE