Europe Muddles to German Vote as To-Do List Grows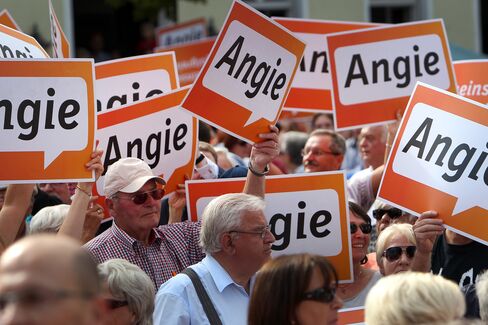 The bond-market calm that has descended on the euro area in the run-up to next month's German election masks unresolved conflicts that have frustrated the region's leaders for more than three years.
Greece needs more debt relief, the International Monetary Fund says; Portugal is struggling to exit its support program; Spanish Prime Minister Mariano Rajoy is battling corruption allegations and calls to resign; France faces unrest as Socialist President Francois Hollande follows through on his promise to cut pension-system losses.
"There is a European ability to turn down the volume on problems when elections are looming," said Ludovic Subran, chief economist at Euler Hermes, a Paris-based credit insurer. "You can feel that the tough questions have been postponed."
With figures yesterday showing the euro area returning to growth, European Central Bank President Mario Draghi's pledge to protect the currency union together holding and Germany's Sept. 22 vote looming, bond investors have overlooked the potholes.
The 10-year borrowing premiums Italy and Spain pay compared with Germany have shrunk to two-year lows, while volatility in the sovereign bond markets is also dropping. Spanish 10-year debt traded in a 34 basis-point range in July, down from 160 points a year earlier. Last month's high-to-low range is the narrowest since October 2010.
Merkel's Lead
In Germany, the biggest contributor to euro bailouts, Chancellor Angela Merkel's Christian Democratic bloc is maintaining a double-digit lead in polls over the opposition Social Democrats, suggesting the woman who has lead Europe's largest economy since the beginning of the sovereign debt crisis will still be in power following the vote.
Her allies have dismissed the notion that her austerity demands will let up. "The apologists in other countries should be prepared to deal with four more years of this German policy," Michael Meister, deputy chairman of Merkel's caucus in parliament, said in a July 31 interview.
That means Merkel and her counterparts across the euro zone will return to the same sort of debates that have dogged them since 2009, notably how much to share the fiscal burdens borne by the bloc's most indebted nations, how long their democracies can handle unemployment that the IMF sees at above 12 percent through 2014 and how to balance demands to trim deficits with the need to foster growth.
Financing Needs
Greece, which engineered the biggest debt restructuring in history last year and has received a pair of bailout packages, will probably need more help to meet a 4.4 billion-euro ($5.8 billion) financing gap next year, according to a July 31 IMF staff report.
Most of Greece's debt is now held by European countries and the IMF after investors took part in the restructuring. Under a December agreement, the target is for Greek debt to fall to 124 percent of gross domestic product in 2020, from a peak the fund now sees at 176 percent of GDP this year.
Portugal, meanwhile, may have to request a second bailout or support from the ECB after political wrangling deters investors, Newedge strategy analyst Jamal Meliani said in a note to clients Aug. 5.
"At the moment the markets are quiet in part because a lot of the 2013 funding requirements for credit challenged governments have been fulfilled," said Lena Komileva, an economist at G Plus Economics in London. "The reality, however, is that across program counties plans are largely derailed and funding requirements for 2014 are getting wider. This will make fresh negotiations unavoidable at the end of the year."
Italy Coalition
In Italy, following February's inconclusive elections, the government has been run by a forced alliance of Silvio Berlusconi's People of Liberty (PDL) and Prime Minister Enrico Letta's Democratic Party. Members of the PDL threatened to bring down the government after Berlusconi was found guilty of tax evasion on Aug. 1, though for the moment Berlusconi has said he'll continue to back the coalition.
The yield difference between Italian and German 10-year securities slid to as little as 239 basis points, the least since July 22, 2011. The spread widened to a euro-era record of 575 basis points on Nov. 9, 2011.
Spain's yield gap over Germany shrank to 269 basis points, the tightest since Aug. 17, 2011. It surged to 650 basis points in July last year as the nation's banks teetered amid speculation the country would need a full-blown bailout.
The one thing that might ease the political problems is a real economic recovery, said Charles Wyplosz, director of the International Center for Money and Banking Studies in Geneva.
"Growth is the great forgiver, it forgives mistakes," Wyplosz said. "If growth doesn't come back in a serious way, to me there is no way out. It's going to be dirty and painful. I hope that after the German election we'll see more intellectual flexibility out of Berlin."
Before it's here, it's on the Bloomberg Terminal.
LEARN MORE