Capital One Hires Goldman's Tulip to Head Capital Markets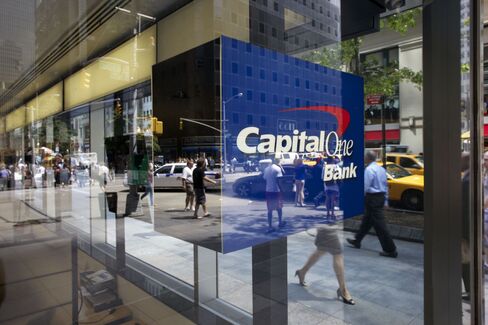 Capital One Financial Corp., the lender that gets more than half its revenue from credit cards, hired former Goldman Sachs Group Inc. banker Steven Tulip to head its capital-markets business.
Tulip, 52, most recently a managing director at Goldman Sachs, will expand Capital One's broker-dealer and offer more products such as loan syndications and interest-rate and commodities derivatives, the McLean, Virginia-based lender said today in an e-mailed statement. He'll be based in New York and report to Michael Slocum, commercial banking group president.
Chief Executive Officer Richard Fairbank, 62, is strengthening the bank's ties to companies as he winds down some home loans, and consumer credit-card lending in the U.S. remains soft. The firm offers financing for municipalities, arranges foreign-exchange transactions for corporate clients and owns Capital One Southcoast, which conducts research, underwrites securities and gives advice to energy firms.
"As we continue to grow and become more sophisticated in how we operate, Steve's track record of success and his wealth of experience will help us continue to broaden both our capital-markets and corporate-finance capabilities," Slocum said in the statement.
Capital One has underwritten $381 million in U.S. leveraged loans this year, up from $357 million in all of 2012, according to data compiled by Bloomberg. The commercial banking group generated $550 million in revenue in the second quarter, about 10 percent of the lender's $5.64 billion total, according to its quarterly filing.
Before joining New York-based Goldman Sachs, Tulip spent 20 years at JPMorgan Chase & Co., where he finished as a managing director in charge of health care and industrials leveraged finance, according to the statement. He left JPMorgan to join Goldman Sachs in September 2007, according to records on the Financial Industry Regulatory Authority website.