Virgin America to Critics: We're Here, We're Going Public, Get Used to It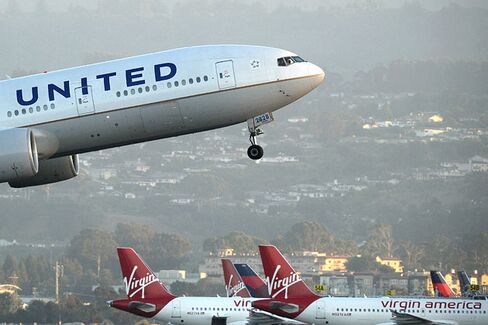 To the critics who scoff at Virgin America's history of red ink and IPO plans, the airline's executives have a simple message: There's more than one way to make money in the airline industry.
Last week the company reported only its second quarterly profit in six years of flying and said it was on track to keep making money. The $8.8 million profit renewed speculation about how quickly the airline might pursue an initial public offering, which appears likely to happen next year.
It also drew a scathing report from Wolfe Research analyst Hunter Keay, who said the airline's entry into Newark, N.J., a United Airlines hub, "typifies all that is wrong with the airline industry, in our opinion, and is an example of behavior that still keeps many longer term equity investors out of these stocks." Virgin began flying from Newark to San Francisco and Los Angeles in April with $99 one-way fares. Keay, again, this time with feeling:
"[United] responded by nearly doubling its frequencies in that market, which now has 111 percent more capacity than it did over the prior decade, on average. Fares remain depressed, with both airlines charging an identically sickening $381 for travel less than two weeks away. Note it costs ~$1,500 to ship a human-sized box overnight from EWR to SFO. A box!"
In separate interviews on Monday, Virgin America Chief Executive Officer David Cush and Chairman Donald Carty said the airline's business model is far more durable than industry analysts consider it to be. "The efficacy of the model is showing up, and we're making money," Carty said. "That sort of belies the thesis that you can't make money doing things differently."
In July 2015, when Virgin America resumes deliveries from Airbus, the company is focused on expanding to Hawaii and will begin exploring the large business hubs of Denver and Phoenix, according Cush, both of which are heavily defended by other airlines. Beyond those two cities, Cush said, Virgin America will need to tackle Atlanta and Houston—dominant hubs for Delta Air Lines and United, respectively. "Ultimately, we're going to have to go into those places," he said.
All this expansion by an upstart is odd for the U.S. airline business, circa 2013. Since the wave of post-2001 bankruptcy restructuring, legacy airlines have prospered by consolidating and keeping a tight curb on capacity so fares won't drift too low. Regulators have largely allowed each carrier to carve out its own turf in the market, to a point that, according to Keay, many airlines claim a monopoly on at least 25 percent of their routes. Another method of achieving financial success has been the ultra-low cost carrier model pioneered by Allegiant Travel and Spirit Airlines, with bargain-basement fares supplemented by a crushing array of fees for every other part of one's travel.
Virgin America and JetBlue Airways like to tell a story of a third, friendlier way, in which travelers—particularly business travelers—pay for a slightly better travel experience. As evidence, Virgin's Carty, a former CEO of American Airlines, cited JetBlue's history of higher revenue performance than Delta on routes between the Northeast and Florida: "People wanted to ride JetBlue."
The problem for both JetBlue and Virgin, however, has been higher costs and financial underperformance relative to peers. The competition for Virgin America on transcontinental flights will get stiffer next year when JetBlue begins flying a premium business-class cabin on new Airbus A321s and American, newly merged with US Airways Group, retires older jets in favor of new A321s.
To bolster the case for a Virgin America IPO, Cush noted the paucity of new U.S. airlines in recent years—capital is no longer available to start any. That, he said, leaves Virgin America and, by extension, JetBlue, with unique models that will be able to command premiums for a more customer-friendly approach than the Big Four and the low-fare, high-fee airlines. And, according to Carty, Virgin America's more subdued future growth will help boost profits as its routes mature.
"We didn't build [Virgin] for anybody's ego—we built it because we thought we could make money with it," said Carty, who also serves as chairman of Toronto-based Porter Airlines. "We're not just guys that like airlines. We're financial players, and we start out with the same proposition that we can make money with our model, too."
Before it's here, it's on the Bloomberg Terminal.
LEARN MORE