MBA Orientation Takes a Turn for the Innovative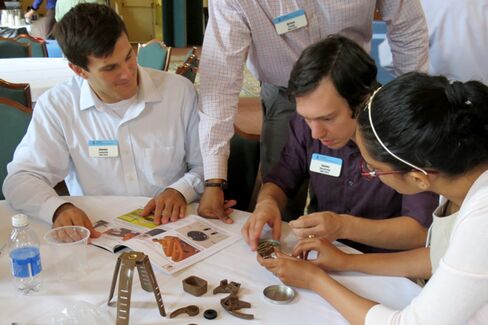 Once a mundane introduction to business school, orientation has evolved to sometimes include condensed courses, travel, and even adventure. No one knows for sure if completing a ropes course with your classmates, as the incoming class at Case Western Reserve University's Weatherhead School of Management does, is going to maximize your potential for success, but it sure does make for more interesting conversation than a lecture on how to sign up for courses. Here are three new developments in MBA orientation:
Lending a Hand
Led by about 30 employees from GlaxoSmithKline, first-year MBA students at the Kenan-Flagler Business School at the University of North Carolina at Chapel Hill broke into small groups on Aug. 7 to build prosthetic hands. The devices will be donated to children around the world, many of whom had faced amputation because of land-mine injuries. The main purpose was to foster teamwork skills while doing charitable work, the school says.
Are You Ready for Some Corn Hole?
First-year international students at University of Virginia's Darden School of Business will share diversions from their native countries at an Aug. 19 event, Games People Play. The event was inspired by the 1964 bestseller of the same name, by the psychiatrist Eric Berne. Students from each country will staff a booth, where they will teach visitors the rules and offer them a chance to try their hand at each game. Hopscotch (from India), Truco (a card game from Spain and Latin America), Corn Hole (the beanbag toss from the U.S.), Ayò (a game from Nigeria that involves seeds or pebbles), and Alkkagi (a Korean board game) are among the pastimes visitors will experience.
Battle of the Brains
At University of Pennsylvania's Wharton School, first-year students will participate in an innovation tournament, the brainchild of professors Christian Terwiesch and Karl Ulrich in their book Innovation Tournaments: Creating and Selecting Exceptional Opportunities (Harvard Business School Press, 2009). The two outlined a method for getting teams to come up with business plans and weeding out the ideas until only the best ones remain. Although the book came out a few years ago, this is the first time such a contest will take place during orientation. Beginning on Aug. 12, the students will learn about climate change. Later in the week, they'll work in teams to pool their ideas for a business that impacts climate change. A dozen finalists will present their ideas to the entire class as well as a panel of alumni and faculty judges.
Join the discussion on the Bloomberg Businessweek Business School Forum, visit us on Facebook, and follow @BWbschools on Twitter.
Before it's here, it's on the Bloomberg Terminal.
LEARN MORE