Katy Perry's New Single, 'Roar', Leaked Early. When Will It Dethrone 'Blurred Lines'?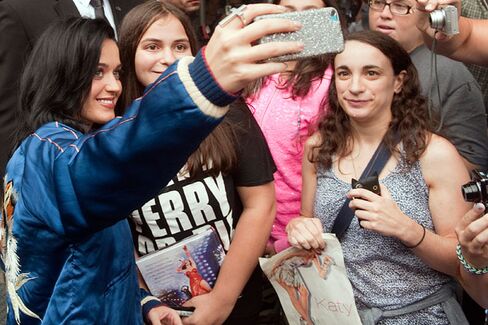 When Katy Perry's new song, Roar, showed up online over the weekend, two days before its official release date, EMI/Capitol did something interesting: In an acquiescing shrug of the shoulders, the record label decided against containing the leak and instead sent the song to radio stations and iTunes two days early.
Because Perry is a one-woman hit factory—Teenage Dream was the first album since Michael Jackson's Bad to score five No. 1s—Roar is largely considered the best candidate to bump Robin Thicke's summer earworm Blurred Lines from Billboard's No. 1 spot, where it has peskily remained for the past nine weeks. There's been some speculation that the leak and early release will help Perry on Thursday, when Billboard's next chart is released, with the Hollywood Reporter predicting that it would "roar onto the Billboard Hot 100 chart." (See what they did there?)
No way, says Gary Trust, associate director of charts and radio at Billboard. In fact, Perry will be lucky if her song makes its debut any higher than No. 75. "It's the week after this one when we'll see the [Roar vs.] Blurred Lines showdown," he says.
The delay is a quirk of the Billboard Hot 100, which comes out every Thursday and is designed to be an indicator of the most popular songs that week. The Hot 100 combines sales numbers, radio airplay, YouTube views, and the number of times a song is streamed online, but it doesn't count these components on the same schedule. For example, the Billboard sales week runs from Monday to Sunday, while radio airplay is delayed two days, from Wednesday through the following Tuesday. "It gets really confusing," admits Trust.
Because of Billboard's weird accounting, it's difficult for record labels to figure out when to release songs. If they time it to Wednesday to coordinate with radio airplay, they lose two days of sales figures. If they release two days earlier, on Monday—as EMI originally planned to do with Roar—the first two days of airplay will be counted in one weekly chart, while sales figures won't kick in until the following week. That's what happened to Taylor Swift last summer. We Are Never Ever Getting Back Together was released on Aug. 13 last year and became the fastest-selling single in iTunes history. But because it came out on a Monday, the sales weren't counted for its first charting week and it entered the charts at No. 72. A week later it shot to No. 1 and stayed there for three out of the next four weeks.
All of this just proves how inconsequential release timing—whether as-planned, or hastily improvised in reaction to a leak—really is. "Even though it leaked early and it's on iTunes early, I don't think that'll really affect sales," says Trust. "We don't have predictions for next week yet, but it's just going to be a monster hit."
Before it's here, it's on the Bloomberg Terminal.
LEARN MORE