Bill Ackman, Deactivated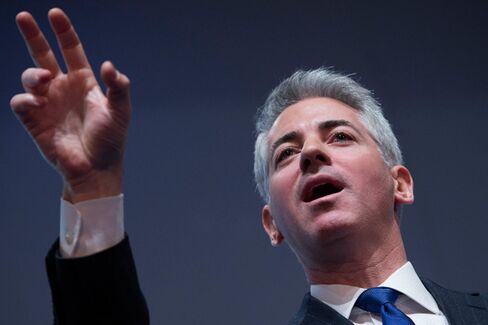 So much for a back-to-school brawl.
After his public, often-acrimonious campaign to oust J.C. Penney's chief executive officer and chairman was successfully blocked by fellow directors, William Ackman resigned from Penney's board on Monday. The departure reportedly followed marathon negotiations since Ackman first floated the idea of stepping down during a directors' conference call on Sunday night. His Pershing Square Capital Management is the struggling retailer's largest shareholder, with an 18 percent position at last count. The hedge fund is estimated to have lost upwards of $700 million on its J.C. Penney stake.
Ackman remarked in a statement: "[T]he addition of two new directors and my stepping down from the Board is the most constructive way forward for J. C. Penney and all other parties involved."
And so ends Ackman's dissent-filled tenure on the beleaguered retailer's board. In the opinion of Jeffrey Sonnenfeld, a professor at the Yale School of Management, Ackman did far more harm than good.
"His public conduct was damaging to investors, distracting to management, pathologically discouraging top-level recruitment, and distracting to current management trying hard to stabilize the ship," says Sonnenfeld. "Ackman's tantrums were akin to a frat boy's food fight and not useful board dialogue."
The company reiterated its "overwhelming support" for CEO Mike Ullman and named Ronald Tysoe, a former vice chairman of Federated Department Stores, now Macy's, to the board. Penney stock fell on the news; shares are down 35 percent this year, vs. an 18 percent gain on the Standard & Poor's 500-stock index.
Ackman's agitations recently turned the normally peace-loving Texas retailer into a hedge fund battlefield of sorts. Two big investors, Soros Fund Management and Glenview Capital Management—which combined owned more than 12 percent of the company—told J.C. Penney they support the current management team after Ackman publicly ripped into executives in letters last week, according to people familiar with the situation, who asked not to be identified because the discussions were private.
Ackman, for his part, got a supporter last week in Perry Capital, which disclosed a 7.3 percent stake in J.C. Penney and agreed with Ackman's position that the chairman and CEO should be sent packing.
Last year, Soros asked to pull the money it had invested with Ackman's hedge fund, owing to poor returns.
Penney is still reeling from its disastrous run under Ron Johnson, the chief executive Ackman handpicked to turn around the retailer. Johnson's first year on the job entailed a $1 billion loss and a 25 percent drop in sales. To boost Penney's cash balance, management recently had to negotiate a $2.25 billion loan and borrow $850 million from a revolving credit facility.
Now, Penney's situation is more life or death vs buy-sell-hold. "They don't have much time," Liz Dunn, an analyst at Macquarie Group said in an interview on Bloomberg TV. "Things need to improve significantly." While management did say on Aug. 1 that it will close the quarter with $1.5 billion in cash on its balance sheet, that figure was less than the $1.9 billion Morgan Stanley had projected—suggesting that Penney is grappling with lower operating cash flow, increased capital spending, and higher-than-expected inventories. All while heading into the crucial back-to-school season.
Ackman started accumulating his Penney stake three years ago, paying between $20.01 and $28.92 a share. The stock now trades at 12.75—around the price of a fire-sale, wrinkle-free shirt.
Before it's here, it's on the Bloomberg Terminal.
LEARN MORE