As Cupcake Fad Fades, Crumbs Branches Out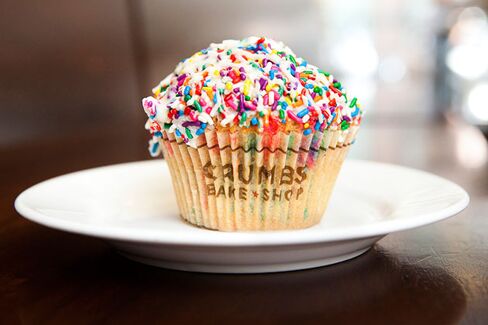 Maybe the macaron is to blame for the cupcake's decline, or perhaps the cronut, real or imposter. Or a marketplace flooded with cupcakes. Or an emerging desire to fit into our old jeans again. Whatever the reasons, Crumbs Bake Shop is having a serious sugar crash. The cupcake chain's same-store sales fell 15.4 percent last quarter, following a 17.7 percent drop in the previous three months, and there's no relief on the horizon: Chief Executive Officer Julian Geiger said he expects more of the same in the second half of the year.
Oh, sweet sorrow. To reverse course, the 78-store chain is trying to branch out beyond cupcakes, which still make up about three-fourths of its sales. To bring in lunch customers, Crumbs added sandwiches and salads by chef David Burke at New York stores—in such fancy varieties as pastrami salmon and beet and goat cheese—"to capitalize on a missing day part," as Geiger put it. It also is selling soft drinks and chips across its locations.
As for beverages, Crumbs last year started serving Starbucks coffees, teas, and espresso-based drinks as part of a plan to boost coffee sales. (The chain agreed to buy about $780,000 worth of Starbucks products per year through August 2015.) By the first quarter of 2013, beverages represented 10.2 percent of net sales, compared to 9.9 percent a year earlier—only a slight increase and lower than beverages' 11.1 percent-share during full-year 2012.
The chief executive also noted discussions about starting a profitable "merchandise licensing program" and possibly franchising Crumbs stores internationally, though no additional details were provided during the call.
Crumbs expanded quickly from 35 locations in mid-2011, around the time that it went public, which has hurt comparable sales. As the company explained in its first quarter filing: "The decrease in same store sales was predominantly due to negative effects of locating new stores in close proximity to existing stores, resulting in a reduction in sales in same stores previously opened." The company is now closing underperforming stores.
For those who still crave a Colossal cupcake (which serves six to eight people … theoretically), walking the extra blocks isn't the worst thing that could happen.
Before it's here, it's on the Bloomberg Terminal.
LEARN MORE