North Carolina Sued Over Voting Law by Women's Group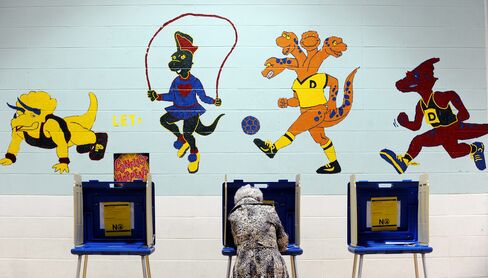 North Carolina was sued by the League of Women Voters over claims that changes to state election laws restrict early voting and eliminate same-day voter registration and some provisional ballots.
The organization joined other non-profit groups in claiming the Voter Information Verification Act is "discriminatory and unduly burdensome" to their efforts to increase voter participation, according to a complaint filed in federal court yesterday in North Carolina after the measure was signed into law by the state's Governor Patrick McCrory, a Republican.
The act, in violation of constitutional equal protection, "makes changes to North Carolina's election laws that will eliminate registration and voting opportunities relied on by hundreds of thousands of North Carolinians in recent elections," according to the complaint.
The enactment of the Voter Information Verification Act follows a June 25 U.S. Supreme Court ruling that threw out the 1965 Voting Rights Act's formula for determining which states must get federal approval before changing their election rules. The decision blocked a tool the Justice Department has used to halt thousands of state and local voting changes, including identification laws in Texas and South Carolina last year.
Multistate Effort
In response to the ruling, U.S. Attorney General Eric Holder has moved to require Texas to obtain approval from the government or a federal court before making voting-law changes. Holder said that may happen other states, too.
Yesterday's lawsuit, which names members of North Carolina's state board of elections and McCrory, asks the court to block the Voter Information Verification Act.
Roy Cooper, attorney general for North Carolina and a Democrat, said in an e-mailed statement last month that he asked McCrory to veto the bill.
McCrory's office, which refers to the law as the "Voter Photo ID" legislation, said in an e-mailed statement yesterday that "North Carolinians overwhelmingly support a common sense law that requires voters to present photo identification in order to cast a ballot."
Signing the law means North Carolina is "adopting this and other election reform provisions with 34 states requiring some form of ID to vote," McCrory said in the statement. The photo ID requirement will go into effect for the 2016 elections, he said.
Ryan Tronozitch, a McCrory spokesman, declined to comment on the lawsuit.
The case is League of Women Voters v. State of North Carolina, 13-cv-00660, U.S. District Court, Middle District of North Carolina.
Before it's here, it's on the Bloomberg Terminal.
LEARN MORE