Singapore Lifts Economic Forecast as Recovery Strengthens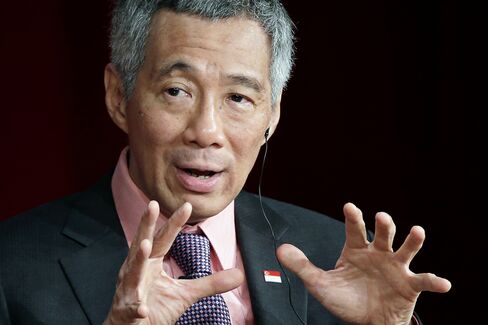 Singapore's Prime Minister Lee Hsien Loong raised his forecast for economic growth to a range of 2.5 percent to 3.5 percent this year, a sign that Southeast Asia is benefiting from recoveries in the advanced economies.
The government previously predicted growth of 1 percent to 3 percent. The economy expanded 2 percent in the first half, Lee said in a televised message yesterday on the eve of the country's National Day. In 2012, gross domestic product grew 1.3 percent, the slowest pace in three years.
"We have made steady progress this past year," Lee said, citing the government's efforts to tame property prices and curb excess borrowing. "Our economy is holding steady amidst global uncertainties. We are attracting more quality investments. Unemployment remains low."
Accelerating growth in developed nations such as the U.S. and Japan is helping to cushion the impact of a Chinese slowdown on Southeast Asia. American service industries expanded in July at the fastest pace in five months, complementing a rebound at factories in the world's biggest economy.
"There are signs that the external economy is showing more signs of stability, be it in the U.S., Europe or here in Asia," said Song Seng Wun, an economist at CIMB Group Holdings Bhd. in Singapore. "Net exports are likely to add to growth in Singapore and around the region, and that coupled with resilient demand should see a firmer growth trajectory" in Southeast Asia.
First-Half Growth
Singapore's GDP probably expanded 14.2 percent in the three months through June 30, according to the median estimate of 11 economists surveyed by Bloomberg News ahead of data due Aug. 12. Initial government figures released last month showed a 15.2 percent increase, the biggest gain since 2011.
The first-half growth rate announced yesterday means the economy expanded 3.8 percent year-on-year in the second quarter, Francis Tan, an economist at United Overseas Bank Ltd., said in an e-mailed statement, adding the forecast exceeded his estimate.
The higher full-year forecast implies a second-half year-on-year growth rate of 3.1 percent to 5 percent, Tan said.
"This is quite strong growth but it's within UOB's forecast," he said. "UOB's forecast of 3 percent full year GDP growth remains unchanged at this stage."
A weaker Singapore dollar will also help exporters and industries such as tourism, he said, adding the bank expects the city-state's currency to reach S$1.30 against its U.S. counterpart by the end of the year. The Singapore dollar traded at S$1.2612 yesterday.
Weaker Currency
The Singapore currency has fallen about 3.2 percent this year, with the Thai baht and the Taiwan dollar posting smaller declines. The Chinese yuan climbed 1.8 percent, according to data compiled by Bloomberg.
The Monetary Authority of Singapore stuck to a policy of allowing gradual gains in its currency in April as inflationary pressures curbed scope for monetary stimulus. Consumer price gains accelerated to 1.8 percent in June, after slowing to a 38-month low of 1.5 percent in April.
The central bank cut its inflation forecast for 2013 to 2 percent to 3 percent, down from 3 percent to 4 percent, Managing Director Ravi Menon said last month. The current monetary policy stance is appropriate in containing any re-emergence of strong cost and price pressures as the economy undergoes restructuring, said Menon.
Services-Led Growth
"Overall the story is still pretty much a services-led growth, which is providing some lift to the economy," Chua Hak Bin, a Singapore-based economist at Bank of America Corp., said before the speech. "The services sector in particular has strengthened considerably, led by financial services, but also business services and even wholesale trade has also improved."
Singapore tightened curbs on overseas workers for a fourth straight year in February and unveiled measures that will result in higher wage costs for companies through 2015, as Lee's administration steps up efforts to increase productivity. At least two protests have been held this year over labor policies that Singaporeans say are hurting low-income earners and forcing citizens to compete with foreigners for jobs.
The city's unemployment rate rose to 2.1 percent in the second quarter. It fell to a five-year low in the last quarter of 2012 as companies hired more local workers after the government tightened the inflow of foreign labor.
Difficult Choices
"We face difficult choices: We need foreign workers to serve our economy and Singaporeans' needs, and immigrants to make up for our shortfall of babies," said Lee, 61. "But we also worry about crowding and congestion, and maintaining our Singaporean identity. So we are feeling our way forward carefully."
While the nation's gross domestic product per capita climbed to $50,123 in 2011 from $516 in 1965, funding retirement is a challenge as lifespans increase and living costs soar, fueling public discontent that led to record opposition gains in the 2011 general election.
"The economy is maturing and our population is ageing. Different groups in society now have more diverse and even conflicting interests," Lee said. "Older Singaporeans worry about health care and costs of living."
Singapore's number of elderly will triple to 900,000 by 2030, according to the National Population and Talent Division. The government says about half of Singaporeans who are 65 today are expected to live beyond 85, and a third beyond 90.
"This is certainly at the top of the mind of policy makers -- the challenge of an aging population," Irvin Seah, a Singapore-based economist at DBS Group Holdings Ltd., said before the speech. "There's a need to continue to put in effort on trying to narrow the income gap, and especially on the low-wage aged population."