Postmaster General Patrick Donahoe on USPS Budget Solutions
The lifelong postal employee and experienced crisis manager on the post office's watershed moment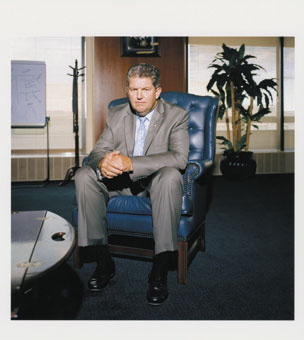 How long have you worked for the postal service?
I've been here for 37 years. I started as a clerk in Pittsburgh.
What keeps you here?
You have a sense of service to the American public. They're our customers. You get on an airplane; everybody on that airplane is my customer. I have a lot of responsibility to the employees.
You've always been known as a crisis manager.
My first crisis, I was assigned in Pittsburgh to be in charge of the vehicle maintenance facility. And we had had a fellow killed in a vehicle that was long past the inspection date. I was 26 years old. I spent three and a half years as the district manager in Washington, D.C. When I got there, we were last in the country on service. I had to get that straightened out.
How bad did you think the finances were when you took over in 2010? You were already struggling to come up with your annual $5 billion payment to the U.S. Treasury to prefund future retiree health-care benefits.
I had been the chief operating officer, so I knew. In 2003 we delivered 51 billion pieces of first-class mail. This year we're going to deliver 21 billion, so we lost 60 percent. If you think about 30 billion pieces at today's rate of $0.46 apiece, it's almost $14 billion that we've lost. Now, in that time frame, we've actually taken costs out of this organization to the tune of $15 billion.
What do you think the biggest problem is?
The Internet. The disruption with the Internet has been unrelenting. If we hadn't lost the volume of bill payment to online, we wouldn't have defaulted on our prefunding obligations. We wouldn't have had to close the plants, and we'd be profitable with no debt.
You have a plan, though?
We have put together a business plan that is the most logical, balanced way to resolve this. No. 1, it addresses the major problem, and that's the prefunding issue. We've laid out taking over our own health-care plan to reduce the cost of current employees and retirees and eliminate the need to prefund further. It's worth between $7 billion and $8 billion a year.
What would you do?
The postal service is in the Federal Employee Health Benefit Program. Our employees have access to 217 different plans. Let us take our 500,000 employees and retirees and competitively bid for one overall health-care plan that might be a combination of some HMOs. At the same time, require our post-65 retirees to use Medicare as the primary health-benefit provider. The second part of the plan is to reduce the six-day-a-week delivery to five. It has to change. We've lost 27 percent of our volume. It's not coming back.
Do you think Congress should be acting a little quicker?
Congress should be acting right now. The biggest problem that I have? Everywhere I go I get the same thing: "It's a great plan, except for …" And guess what? When you take out all the "except fors," you might as well throw the plan in the trash. We can get this thing fixed. But it's going to take agreement and a little bit of sacrifice.
Some people say, "He's trying to set up the postal service so it can be privatized."
It makes no sense. Even in a no-tax world, we would still have razor-thin margins and universal service at a universal price. Any private company would be afraid to sign up for a deal like this.
Was the time to privatize when the volume was high and there was a ton of cash coming in?
Most people wouldn't have wanted the aggravation. If you're in FedEx's shoes or UPS's, you can do practically whatever you want.
People were calling for you to resign. How did you feel about that?
I don't want to be a smart aleck, but I'm not running a popularity contest. I'm trying to do the responsible thing.

Before it's here, it's on the Bloomberg Terminal.
LEARN MORE