NYSE Euronext's Duncan Niederauer on Botched IPOs, Lost Trading Volume
On the eve of the Big Board's acquisition by ICE, its CEO reflects on dwindling investor confidence and the impact of Facebook's botched IPO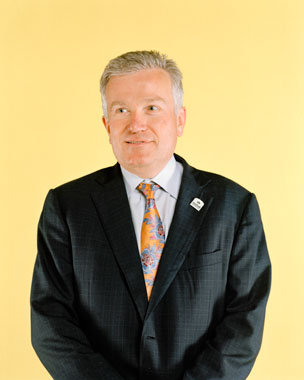 You're being bought by IntercontinentalExchange. How does a 13-year-old futures exchange make a play for a 220-year-old American institution?
It's an illustration of how quickly the world is changing, and particularly how our industry has changed, that a company that young can find that much success so quickly. But the other thing I remind people of is we're 220 years old—in fact, our European exchanges are even older than that—but we've only been a public company since 2006, for less time than ICE has been a public company. So, we're actually a pretty young company in some respects because for 200-plus years we operated basically as a club that was run for the benefit of the members, the seat owners.
You've been CEO for six years. Trading volume has fallen during that time. How have you dealt with that?
As recently as 10 years ago, we were almost solely reliant on the business of trading U.S. equities. That's something we've worked really hard on the last few years by scaling the company overseas and now, with the acquisition by ICE, to immunize ourselves against that reliance on trading volumes. That wasn't because we thought trading volumes would fall, but we just thought the company was too one-dimensional.
Some of the volume decrease was a response to the crisis. I hear from colleagues at the big mutual funds all the time that they're simply turning their portfolios over less. The prevalence of high-frequency trading has diminished. I don't think this is cyclical. This is secular. We've found our way back to where this feels like the new normal.
Do you think Americans are still spooked by the market?
It has really gone, in the minds of many, from an investor's market to a trader's market. There's no question that has had an impact on the confidence of some of your readers.
Looking back, should the New York Stock Exchange have invested more in U.S. derivatives, say, a decade ago?
It's funny how hindsight gives us perfect vision, right? I mean, I think we all know that. You could go back even further than that, and the NYSE had a thriving options business, had a thriving futures business. And the view at the time, which I'm sure was a well-thought-out and informed decision, was better to be singularly focused on U.S. equities because that's really where the brand of the NYSE is strongest.
Were U.S. exchanges, your company included, slow to embrace technology in the late '90s?
Yeah, history makes it very clear that the response to the disruptive technology was too slow.
Not only has stock trading volume gone down, your share of it has decreased. A lot of it has been going off exchange, into so-called dark pools [private-trading venues run by broker-dealers]. You've been consistent in your opposition to that. Can you explain why?
One of the things we learned in the crisis was that if you have a choice between a market being transparent or opaque, it's considerably better for the market to be transparent. What got us in trouble in the crisis was there was a lot of unidentified risk because the transactions were happening in very opaque markets. So, while Dodd-Frank has addressed a lot of those concerns and encouraged transparency, we've pointed out to the regulators of the equity markets, like the SEC, that the equity market is getting darker and darker by the day.
There's a sense that some players get better information than others in certain venues.
It's a very unlevel playing field now. They don't have the same regulatory requirements. They don't have the same reporting requirements. And we've said to the SEC, either increase what the dark pools have to do in terms of compliance and regulation and other commitments similar to the ones we have, or give us the opportunity to be in some of the businesses that they're in. The latter is an unrealistic objective. The former should be seriously considered.
The industry has had two botched IPOs in the last year: Facebook, which went public on Nasdaq, and BATS Global Markets, which listed its own IPO but canceled the offering because of a software glitch. Have those issues fed into whatever nervousness might be out there?
What we learned in both of those exercises is that what a lot of people think is very easy is complicated. BATS learned the hard way, having never been really a primary venue before and having never done an IPO before. As far as Facebook goes, our view is it certainly would have been better for the markets if that went well. I get asked all the time, "Oh, wasn't that great for you guys?" It wasn't great for anybody who cares about the capital markets. It was a high-profile IPO that, unfortunately, wasn't handled in the way that it should've been handled.
You think it was a confidence issue?
If you think about it, it was an opportunity to redemocratize the equity market, right? That was the IPO that everyone was going to participate in. Individuals could own a piece of a symbol of what the next wave of innovation was all going to be about. It wasn't going to be the big boys getting all the stock.
And people got burned.
That was really the shame of it because that was an opportunity to bring people back in. And we were disappointed rather than celebrating that outcome, because it wasn't good for the markets.
Before it's here, it's on the Bloomberg Terminal.
LEARN MORE