Traders Look for New Jobs as Charges Loom Over SAC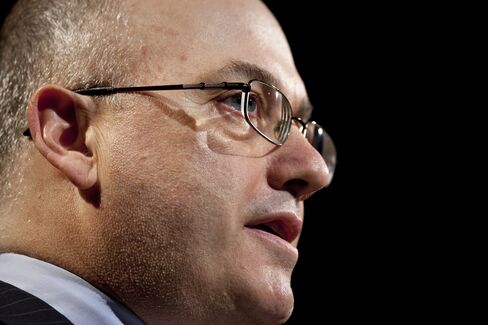 Four days after the U.S. government indicted SAC Capital Advisors LP, describing it as a "veritable magnet for market cheaters," founder Steven A. Cohen walked around the firm's Manhattan offices on Madison Avenue and spoke with employees, telling them that "bad apples" exist in any organization.
As Cohen, 57, sought to assure employees that business will continue as usual at the 21-year-old hedge-fund firm, many of his portfolio managers, analysts and traders were already reaching out to friends, hedge funds and recruiters in the hope of landing jobs next year when they expect SAC will need far fewer employees, according to people who have spoken to them.
Getting those jobs won't be easy for many investment professionals, as the charges against SAC raise concern about reputational damage and hedge-fund hiring generally is sluggish. At least one large hedge-fund manager, the $18 billion Millennium Management LLC, doesn't plan on taking on SAC stock-pickers because of the risk that, as the government's investigation continues, it may end up with an employee who is charged with insider trading, according to two people with knowledge of the firm's hiring policy.
"If employers see SAC on a candidate's resume, they're going to take a longer pause," said John Carley, president of A-L Associates Ltd., a search and consulting firm in New York that services hedge funds. "But it doesn't mean they're going to waive him or her from coming into their organization."
A limited number of hedge-fund firms are open to considering SAC applicants, among them Bluecrest Capital Management LLP, Citadel LLC and Balyasny Asset Management LP, said people familiar the firms. SAC employees hoping to land there will face tough scrutiny and longer hiring processes, according to recruiters.
Best Paid
The people discussing the hiring policies spoke on condition of anonymity because the firms are private.
Most employees will stick around until at least next year when their bonuses have been paid, said recruiters and employees. The portfolio managers are among the best paid in the industry, earning between 15 percent and 25 percent of any profits they make, plus a percentage on money-making ideas they feed to Cohen's portfolio.
SAC has said that "numerous" portfolio managers have earned more than the $9.3 million bonus made in 2008 by Mathew Martoma, the former SAC portfolio manager charged in November for insider trading.
Raising Bonuses
Cohen raised bonuses earlier this year to help stem defections as the government insider-trading probe intensified. SAC, based in Stamford, Connecticut, employs about 1,000 people globally, with some 400 of them focused on investing, according to an April regulatory filing.
Prosecutors on July 25 announced criminal charges against the $14 billion firm, saying it engaged in an unprecedented, decade-long insider-trading scheme. The government cited separate alleged insider-trading schemes by at least eight current and former fund managers and analysts. Six days earlier, the U.S. Securities and Exchange Commission, in an administrative action, said Cohen failed to supervise two employees who have been charged with insider trading.
At least 11 former or current SAC employees have been linked to insider-trading while at the firm, most of them working on technology and health-care stocks.
Losing either case means Cohen may have to stop managing money for outside clients and be left to invest his own fortune, estimated at $9 billion by the Bloomberg Billionaires Index. Prosecutors also raised the prospect that SAC's assets may be subject to forfeiture.
Englander's Exception
SAC denied it encouraged or tolerated insider trading and pleaded not guilty. Cohen himself wasn't criminally charged. Jonathan Gasthalter, a spokesman for SAC at Sard Verbinnen & Co., declined to comment beyond statements last month in which the firm denied the charges and said it expects to be able to continue its operations while it works through the matter.
What concerns New York-based Millennium, run by Izzy Englander, and some other firms is that prosecutors have vowed to continue their probe of SAC, which could lead to more arrests, said the people. Englander would make an exception for traders from SAC's 20 quantitative teams and 13 macro teams, strategies that don't lend themselves to the use of illicit information, as well as employees not directly involved in investing, said the person.
Englander and Cohen have made it a practice to refrain from poaching employees from each other's firms. Millennium employed 810 people in investment advisory roles at the end of last year, up from 570 at the end of 2011, according to regulatory filings.
Investor Pressure
"Some investors are leaning on the hedge-fund owners to be extremely cautious when recruiting from SAC as they don't want to risk being embroiled in the insider-trading probe," said Jason Kennedy, chief executive officer of London-based recruiter Kennedy Group.
Citadel, the $15 billion firm run by Ken Griffin out of Chicago, is open to interviewing former SAC employees. While the firm isn't hiring aggressively at this time, it is taking on people opportunistically, according to one of the people. The firm's equities group is one of its largest, with assets of about $2.6 billion.
Employees at other firms that closed down after being swept up in the government's insider trading probe have found new jobs. Within months of the October 2009 insider-trading charges against Raj Rajaratnam, founder of Galleon Group LLC, several of his firm's 124 employees joined other firms. Charles Benziger, a portfolio manager, joined Citadel as a consumer-industry analyst. Eric Wasserstrom and Rajeev Patel joined George Soros's New York-based Soros Fund Management LLC as analysts.
'More Selective'
Wasserstrom declined to comment on the job search after Galleon, and Benziger and Patel didn't respond to messages seeking comment. None of them have been accused of wrongdoing. Galleon was never charged.
While hiring in financial services has picked up in the past three years, employment remains about 4 percent below the 2008 high. The number of jobs in a broad area of financial services that includes brokers, exchanges and portfolio managers, fell by almost 9 percent from August 2008 to March 2010, according to the Bureau of Labor Statistics.
"Hedge funds are not hiring like gangbusters like they were before the financial crisis," said Michael Karp, chief executive officer of Options Group, a financial-services recruitment firm in New York. "They are being much more selective."
Bluecrest's Expansion
Much of the demand at hedge funds is coming from bigger firms that are adding strategies including asset-based lending and mezzanine financing that were once the purview of banks, said Gary Goldstein, the chief executive officer of New York-based Whitney Group LLC, an executive search firm that focuses on financial services.
SAC's main strategy is trading stocks, and its holding period tends to be shorter than many of its rivals, meaning SAC alumni might not fit into the culture of other hedge funds. Still, with U.S. stocks at a record, some of the more successful firms are looking to beef up their equity teams.
Bluecrest, the $36 billion firm that focuses on fixed-income investments and uses computer algorithms to profit from asset-price trends, has hired at least a dozen people for equities since March as part of its expansion into trading stocks. The London-based firm is run by Michael Platt.
Balyasny, the $3.3 billion hedge-fund manager run by Dmitry Balyasny, has seen a pickup in resumes from SAC employees as the probe of Cohen's firm intensified, according to the people. The Chicago-based company has a structure similar to SAC's, employing multiple teams that oversee independent portfolios. In February, it hired Justin Dodd, a former SAC employee, as a consumer portfolio manager.
'Significant Talent'
"We are lining up some significant talent which we look forward to announcing more formally in the next several quarters," the firm said in the letter, a copy of which was obtained by Bloomberg News. Balyasny is looking for portfolio managers focusing on Japanese equities, U.S. financials, commodities as well as technology, media and telecommunications, according to the letter.
While it's open to adding more SAC alumni and looking to get a better sense of who might be available, Balyasny won't be hiring immediately from SAC because it doesn't want to be seen as taking advantage of Cohen's woes, according to the people. The firm also wants to wait until the investigation of SAC is closer to conclusion, the people said.
Probe Continues
The government probe is continuing. Last month, Richard Lee, a former SAC employee who hadn't previously been named in the multi-year investigation, was charged over claims he traded technology stocks based on inside information. Lee, an ex-Citadel employee who co-managed more than $1 billion while working at SAC, has pleaded guilty and started helping the government after the firm closed its Chicago offices in March.
Lee was among the former employees who continued to use those premises as recently as June, according to a person who knows him. He didn't have access to SAC's trading systems during that time, another person said. Both asked not to be identified because the matter is private.
The government's investigation hasn't deterred Conatus Capital Management LP, a $2.6 billion hedge fund in Greenwich, Connecticut. The firm hired David Selvers as a senior analyst in June. Selvers was a technology portfolio manager within SAC's Sigma group.
Spokesmen for Millennium, Citadel, Balyasny, Bluecrest and Conatus declined to comment.
Even if firms are willing to hire a former SAC employee, the process will take longer and the due diligence and background checks will be more thorough, said Michael Martinolich, a New York-based partner at recruitment firm Caldwell Partners.
"SAC employees may have to go the extra mile by providing additional, objective references to prove their credibility," he said.
Before it's here, it's on the Bloomberg Terminal.
LEARN MORE