Security Beats Diplomacy as U.S. Closes Embassies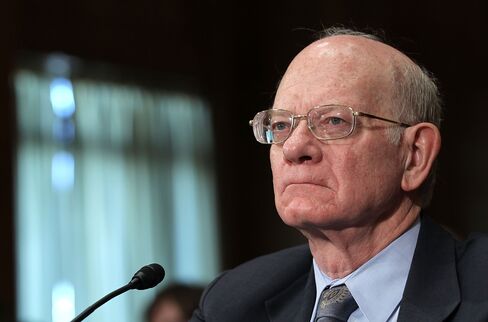 Aug. 7 (Bloomberg) -- As a young diplomat in Tabriz, Iran, in the mid-1970s, Ronald Neumann knew one American was assassinated there every year. He stayed. When he was ambassador to Algeria decades later, militants issued a death threat against all foreigners. He remained then, too.
This week, as the U.S. closed diplomatic posts across the Middle East, Africa and South Asia and flew government personnel out of Yemen, diplomats and analysts are re-examining the challenge of balancing security and diplomacy. Shadowed by four American deaths last year in Benghazi, Libya, President Barack Obama's decision won bipartisan support in Congress after intelligence agencies intercepted threats centered on Yemen.
Elsewhere, reaction has been mixed. Veteran envoys such as Neumann and Barbara Bodine, a former U.S. ambassador to Yemen, see a growing aversion to risk and warn that lowering the flag, even temporarily, has costs. Critics say it enables a few extremists to paralyze U.S. diplomacy without firing a shot.
"Caution and care are certainly warranted," said Tom Sanderson, co-director of the Transnational Threats Project at the Center for Strategic and International Studies, a Washington policy group. "But are we giving militants a victory? Absolutely, there's no doubt about it."
Competing Pressures
Obama faces the competing pressures "of not wanting Americans to die, but also not wanting terrorists to be able to exert the kind of leverage that shuts down American diplomacy in a way that's tremendously symbolic of our role in the world," Sanderson said. For the president, it's "really a no-win situation."
Obama said in a television appearance yesterday that the threat that prompted the embassy closings is "significant enough that we're taking every precaution."
Asked about critics who called the move an overreaction to the Benghazi attack, Obama said on NBC's "Tonight Show With Jay Leno" that "one thing I've tried to do as president is not overreact but make sure that as much as possible the American people understand that there are genuine risks out there."
Obama marked the 15th anniversary today of embassy bombings in Africa that killed more than 200 people, including 12 Americans, pledging in a statement that the U.S. will be "steadfast in our commitment to protect the American men and women who dutifully serve our nation overseas."
U.K., France, Germany
Other Western nations, including the U.K., France and Germany, reacted much more conservatively to the security threat, closing only their diplomatic posts in Yemen. Neumann points to another set of competing pressures on Obama that may explain the starkly different responses.
"Congress and the news media have politicized Benghazi to the point where the administration is scarred," he said. "It has to worry about a terrorist attack abroad and a political attack at home, and that makes it cautious."
Bodine, Neumann and other diplomats emphasized that they can't assess the current threat because they aren't privy to the intelligence on it.
The growing risk aversion began in 2001, they said, and went into overdrive in the aftermath of the Sept. 11, 2012, assault on the Benghazi post. Embassies are increasingly fortified, often hidden behind towering walls topped with razor wire and labyrinths of concrete bollards to slow car bombers.
"Right now we have zero tolerance for risk, and you can't operate with zero tolerance for risk," said Neumann, who's also served in Iraq, Bahrain, Abu Dhabi and Yemen.
'Golden Solution'
Some extremists view that as an American weakness. A 2011 document from al-Qaeda in the Arabian Peninsula, the Yemeni group suspected of plotting new attacks, outlined a strategy to counter the U.S. use of remotely piloted aircraft.
"The increase of human losses in the past pushed the American people to go to the streets shouting 'bring back our sons,'" said the June 17, 2011, document, which the Associated Press found in Mali. "The golden solution," is to "start kidnapping Western citizens." That would create "public opinion pressure in America as they are being hurt again," it concludes.
The Yemeni Foreign Ministry said the U.S. was serving "the interests of extremists" when it flew some embassy staff out to Germany yesterday, a step the State Department refused to call an evacuation. State Department spokeswoman Jennifer Psaki yesterday said the U.S. didn't agree with that characterization.
Drone Attacks
As the withdrawal of U.S. personnel was under way, an air strike in Marib province killed four suspected al-Qaeda members, Yemen's state-run Saba news agency reported, the fourth strike in recent days.
Diplomats such as Bodine say the administration's stepped-up drone attacks in Yemen, Afghanistan, and Pakistan reflect the risk-averse approach, and also see them as evidence that military action, intelligence and security requirements are taking precedence over diplomacy.
The presence of security personnel "who make their money by seeing everything as a threat distorts and damages people's perceptions of us," Bodine said. Tighter security rules "also distort your ability to talk to people."
"You can have diplomacy and you can have perfect security, but you can't have both," she said.
Danger isn't new to diplomacy. The 1970s and 1980s saw attacks on the American embassies in Iran, Islamabad, Libya and Lebanon, car bombings in Portugal, Kuwait and Russia and attacks in Italy, Greece and West Germany. In the past 15 years alone, U.S. posts have been bombed in Africa, attacked by gunmen in India and Syria, and assaulted elsewhere.
Risk Aversion
Tex De Atkine, a retired U.S. Army colonel who served as military attaché in Jordan in 1970, after the previous attaché was assassinated, recalled abductions, rapes, checkpoints and an embassy under siege.
Leaving or closing "certainly never crossed my mind, and I don't know that it did for anyone else," he said in a telephone interview.
"We're risk-averse now, we don't want to take chances," he said. "Our image is one of a weak nation."
The shift toward more cautious diplomacy started under President George W. Bush with former Secretary of State Colin Powell, Bodine said. Many of his top aides were former military officers or defense officials.
"They were all good people, but they came from a military mindset where you build perfectly safe cantonments, you go out, do your thing and come back behind your wall," said Bodine. With the terrorist attacks of 2001 fresh on everyone's mind, "that sort of became the model of how we worked."
Hidden Costs
One problem now, she said, is that "it's almost impossible to tell when the threat is over," so the default position for embassies is the most fortified one.
Reducing the U.S. diplomatic presence is felt in many ways, Neumann said. "There's a reduction in services -- people who could come in for visas to spend money in our economy and can't do that," he said. "There's a cost to American business that we can't help."
Because diplomatic outposts are a country's eyes and ears, there's also the risk of "a gradual loss of knowledge over time," Neumann said. "Can the U.S. afford to be out of contact with a large part of the world where things are happening? We also won't be speaking as much, getting out our side of complex stories."
In the end, "security people have the trump card," Bodine said. "If you don't follow their advice and something happens, nobody wants to be responsible for the loss of a colleague or friend."
To contact the reporter on this story: Nicole Gaouette in Washington at ngaouette@bloomberg.net
To contact the editor responsible for this story: John Walcott at jwalcott9@bloomberg.net