Banxico Says Mexico May Grow at About Half the Pace of 2012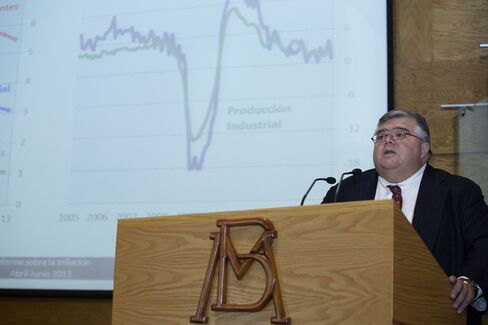 Mexican policy makers are forecasting the slowest growth in four years after stagnant exports to the U.S. led them to predict the economy may expand in 2013 at about half the pace of last year.
Gross domestic product will expand 2 percent to 3 percent, compared with the 3 percent to 4 percent previously forecast, the bank said in its quarterly inflation report published today. The peso's strength through most of the first half of the year also may have hurt exports to the U.S., Mexico's top trading partner, amid a slowdown in the world's largest economy, central bank Governor Agustin Carstens said.
"Economic activity at a global level has been slowing," Carstens told reporters after the release of the report. "This has shown itself in a substantive drop in international trade" and "contagion from advanced economies to emerging ones," Carstens said.
Carstens said the central bank's outlook on interest rates hasn't changed since its last decision on July 12. Policy makers voted unanimously to keep the key rate at 4 percent last month as the debate over stimulus policies in the U.S. fueled instability in global currency markets.
Faring Better
Mexico is faring better than some other nations in handling international financial turmoil from speculation developed-market central banks, including the U.S. Federal Reserve, will begin to remove stimulus, Carstens said. Any market turbulence from Fed actions will be short term, Carstens said.
The economic slowdown means that growth is unlikely to be a source of inflation pressure, Carstens said. Inflation will remain within the central bank's target range through 2014, ending this year close to 3.5 percent, before dropping to about 3 percent in 2014, after pressures on farm prices eased, the bank said. Prices rose 3.53 percent in the 12 months through mid-July, compared with 4.63 percent in May.
Slowing inflation is "a testimony to the credibility of monetary policy," Carstens said. "Clearly the reason for higher inflation was the behavior of non-core inflation and farm prices."
The peso fell 0.7 percent to 12.7229 per dollar in Mexico City. Yields on fixed rate Mexican government peso bonds maturing in 2024 were little changed at 5.84 percent, according to data compiled by Bloomberg.
Inflation Slowing
Inflation has slowed more than forecast to within the central bank's 2 percent to 4 percent target range and analysts have lowered their 2013 economic growth forecasts in each monthly central bank survey this year to below 3 percent.
The inflation rate "after having been for two or three months above, is now clearly below the 4 percent level," said Carstens, adding that the balance of inflation risks had improved. Carstens said he anticipates Mexican economic growth improving in the second half as the U.S. recovery picks up, volatility in the housing market settles down, public spending increases and private demand improves.
The central bank said it expected core inflation, which excludes energy and farm prices, to end the year at close to or lower than 3 percent. The inflation shocks earlier in the year had not affected core prices, Carstens said. There was no sign of pressure on inflation from rising wages, he said.
The central bank left its growth forecast for 2014 at 3.2 percent to 4.2 percent, while estimating that the economy would create 450,000 to 550,000 jobs in the formal sector this year and 700,000 to 800,000 next year.
Economists expect the economy to expand 2.7 percent in 2013, according to the median forecast in yesterday's bi-weekly survey by Citigroup Inc.'s Banamex unit.