The Airlines' Battle for Los Angeles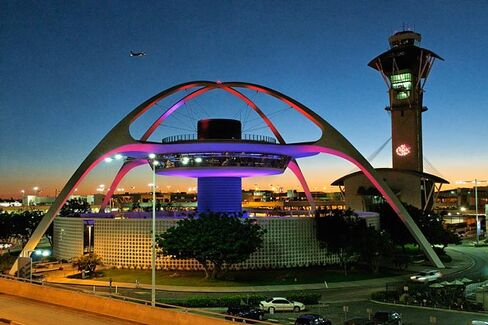 There are more than 50 flights each day between Los Angeles and San Francisco, enough for one every 20 minutes from 6 a.m. to 10:30 p.m. Nonetheless, Delta Air Lines sees room for more.
The airline made a splash on Aug. 1, when it announced a new hourly shuttle between LA and San Francisco, modeled on the service it operates between New York and Boston, Chicago and Washington. Shuttles are just regular flights with separate, faster check-in counters, a more liberal, 30-minute check-in window, and free in-flight newspapers, wine, and beer. (In California, Delta's going with Sierra Nevada and Wente, two brands from the state.) The shuttle expansion is part of a push by Delta to boost its share of the market at Los Angeles International, where it's investing in a new terminal 5 and new clubs, a project that's expected to be finished in 2015.
Los Angeles, a United hub, is the site of a modest skirmish this summer between Delta and American, both of which are planning new domestic flights. American, which is on the cusp of merging with US Airways Group, sees Los Angeles as a key market that can help it rebuild its corporate travel business. The airline's new LA non-stops are geared to medium-sized markets that are home to large companies: Pittsburgh; Columbus, Ohio; Hartford. Conn.; and Bentonville, Ark. (Airline blogger Brett Snyder called American's Los Angeles plans the "Let's Lose a Bunch of Money Before New Management Comes in Tour-Summer 2012.")
In July, Atlanta-based Delta announced new flights from LA to Portland, Ore., as well as expanded service to Oakland, Calif.; San Jose; New Orleans; Kansas City, Mo.; Indianapolis; Columbus; Tampa; Raleigh, N.C.; Jackson Hole, Wyo.; and limited service to three cities in Montana. The new shuttle operation, which will be on 76-seat regional jets, is largely an extension of Delta's strategy to give California travelers a viable option to United, particularly between the state's two main business centers.
United and American both serve about 19 percent of the traffic at LAX, followed by Southwest, according to the Bureau of Transportation Statistics. Delta was fourth, with 13.6 percent. San Francisco and Los Angeles were the top traveler destinations from each city, respectively, with about 1.68 million passengers each way in the 12 months ending April 2013. New York ranked second from both California cities.
"[LAX] has always been kind of a Boston; no one has ever really owned all of it," Delta spokesman Anthony Black said Monday.
Starting in September with 14 weekday flights, Delta's shuttle service adds only three flights to its existing lineup, and it will still add up to one fewer flight per day than United currently offers. Beyond the two carriers, business travelers already can find plenty of nonstops on the LA-SF route: Southwest flies 11, Virgin America has nine, and American has six.
In 1994, United started Shuttle by United, a separate West Coast unit designed to have lower costs. It did not survive the 2001 airline downturn.
Before it's here, it's on the Bloomberg Terminal.
LEARN MORE