Hey, Look at Starbucks's Venti Pile of Money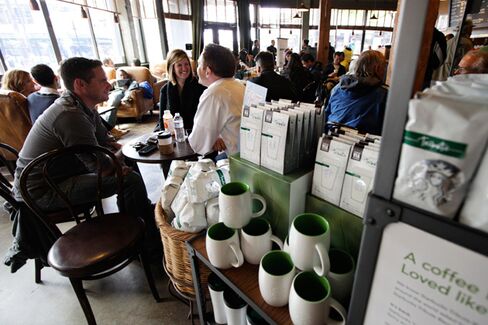 More than 19,000 stores and four decades since it started up, Starbucks is still managing to bust out of its balance sheet, defying the law of large numbers.
In the coffee giant's latest quarter, net income shot up 25 percent from a year ago, on a 13 percent gain in sales, hitting $3.74 billion. Global same-store sales gained 8 percent, well ahead of analysts' average estimate of 5.8 percent, according to Consensus Metric. Free cash flow—money available to be reinvested in the enterprise, to retire debt, and to pay dividends or repurchase stock—will grow an enormous 50 percent in the year ending September 30, according to a Bloomberg survey of Wall Street analysts.
Consider: Starbucks's revenue gain of 11.5 percent in the 12 months ended June 30 exceeded that of McDonald's by more than nine times. Consider also: Adjusted for splits, Starbucks was a 73¢ stock in 1992. It's now worth $73 and sports a $55 billion market cap.
Bloomberg's Charles Mead reports that Starbucks throws off more free cash relative to its debt than any U.S. restaurant chain. So flush is the Seattle company that it can more than double its debt, to reward shareholders, without hurting its credit. The company plans to add $750 million of debt to the $550 million of bonds it has outstanding—and could take out as as much as $1 billion without materially affecting its credit profile, according to Morningstar.
Starbucks, which carries an A- credit rating from Standard & Poor's, would still have a safer debt-to-equity ratio than about 90 percent of indebted S&P 500 index companies. "They're happy with that A- rating, but they do recognize that they do have some room to lever up," Joscelyn Mackay of Morningstar told Mead. "This is a company where their balance sheet has gotten away from them in a positive sense, in that they've continued to grow and earnings have continued to grow, and they haven't kept pace with it."
"We've long recognized that there's opportunity with an extremely conservative balance sheet to bring a bit of debt on," Chief Financial Officer Troy Alstead said on a July 25 conference call. Indeed, of the 11 consumer-discretionary companies in the S&P 500 with market values bigger than $50 billion, Starbucks has the least debt. The No. 1 coffee chain is "in the early innings of a global expansion that may last for decades" and is set to benefit from lower coffee costs and higher-margin food sales, Goldman Sachs analysts led by Michael Kelter wrote in a July 26 report.
Props to Howard Schultz for turning around Starbucks since it announced his return to the CEO job in January 2008, after a year in which the share price was cut in half. It has since quadrupled.
Before it's here, it's on the Bloomberg Terminal.
LEARN MORE