Payrolls Probably Grew in July, Helping Trim U.S. Jobless Rate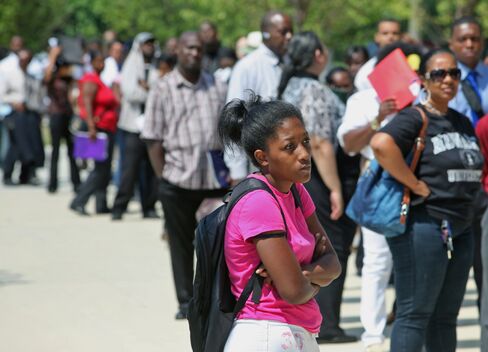 Employers probably added about as many workers in July as the prior month, helping trim the U.S. unemployment rate and showing the expansion will strengthen in the second half of 2013, economists said before a report today.
Payrolls rose by 185,000 workers after a 195,000 gain in June, according to the median forecast of 92 economists in a Bloomberg survey. The jobless rate fell to 7.5 percent, matching a four-year low, from 7.6 percent. Other data may show personal spending climbed in June by the most in four months.
Amazon.com Inc. and Ford Motor Co. are among companies adding staff as rising home and automobile sales, more factory orders and improving consumer confidence signal the economy is poised to pick up. Federal Reserve officials, debating whether to trim bond purchases meant to stoke growth and cut the jobless rate, said this week the labor market has shown "improvement."
"We'll probably get decent payroll gains for July, consistent with healthy progress in the labor market," said Brian Jones, a senior U.S. economist at Societe Generale in New York. "The economy is generating close to 200,000 jobs month after month, and the Fed's got to be happy about that."
The Labor Department's report is due at 8:30 a.m. in Washington. Bloomberg survey estimates ranged from increases of 23,000 to 225,000.
Private employment, which excludes government agencies, climbed 195,000 after a 202,000 increase in June, economists predicted.
Also at 8:30 a.m., Commerce Department figures will shed light on how household spending, which accounts for about 70 percent of the economy, was faring as the second quarter drew to a close. Consumer purchases grew 0.5 percent in June after a 0.3 percent gain a month earlier, according to the Bloomberg survey median. Income may have increased by 0.4 percent, they said.
Stock Prices
Stocks rallied yesterday, sending the Standard & Poor's 500 Index above 1,700 for the first time, after central banks vowed to maintain stimulus and data on global manufacturing beat forecasts. The Standard & Poor's 500 Index advanced 1.3 percent to 1,706.87.
Improving prospects for the second half of the year may sustain the job market. Economists surveyed by Bloomberg from July 5 to July 10 project growth will average 2.5 percent during the period, according to the median.
Gross domestic product, the value of all goods and services produced, grew at a 1.7 percent annualized rate in the April through June period after a 1.1 percent advance in the prior three months, Commerce Department data showed on July 31.
First Half
Payroll gains averaged 202,000 a month in the first half of this year, up from 180,000 in the final six months of 2012. Such gains are typically linked with growth of close to 3 percent, say economists at UniCredit Group and Deutsche Bank Securities Inc. That's double what the GDP data showed this week.
The disconnect is underscored by businesses' plans to expand their workforce. Amazon.com, the world's biggest Web retailer, announced in July it is adding more than 5,000 full-time jobs at U.S. warehouses to meet demand. The Seattle-based company also is hiring 2,000 customer-service staff, including part-time and seasonal workers.
Ford, the second-largest U.S. automaker, reported second-quarter per-share profit excluding some items that beat the average estimate of analysts surveyed by Bloomberg. The Dearborn, Michigan-based company said it'll hire 3,000 salaried employees this year, 800 more than originally planned.
"The automotive sector of our economy has now contributed greatly to overall growth during this expansion," Ellen Hughes-Cromwick, chief economist at Ford, said on a conference call yesterday. "Job and income gains are positive and interest rates remained relatively low."
Auto Sales
Households continue to keep spending on big-ticket items such as automobiles. Cars and light trucks sold at a 15.6 million annualized rate in July and 15.9 million the prior month, the strongest back-to-back readings since late 2007, according to figures yesterday from Ward's Automotive Group.
Sustained gains in employment help explain recent increases in consumer sentiment. The Bloomberg Consumer Comfort Index rose last week to the strongest reading since January 2008.
The payrolls report today may also show employment at factories increased in July for the first time in five months, according to the Bloomberg survey.
The Institute for Supply Management's factory index, released yesterday, showed manufacturing expanded in July at the fastest pace in more than two years, sparked by surges in orders and production that signal companies are growing more optimistic about the economic outlook.
Monetary Policy
The Fed may begin tapering the pace of its asset purchases in September, according to a growing number of economists surveyed by Bloomberg from July 18 to July 22.
"Labor market conditions have shown further improvement in recent months, on balance, but the unemployment rate remains elevated," policy makers said in their statement this week at the conclusion of a two-day meeting in Washington. The Federal Open Market Committee also said it will maintain its $85 billion in monthly bond buying. "Economic growth will pick up from its recent pace and the unemployment rate will gradually decline."
                       Bloomberg Survey

================================================================
                           Nonfarm  Private     Manu Unemploy
                          Payrolls Payrolls Payrolls     Rate
                            ,000's   ,000's   ,000's        %
================================================================

Date of Release              08/02    08/02    08/02    08/02
Observation Period            July     July     July     July
----------------------------------------------------------------
Median                         185      195        2     7.5%
Average                        184      195        2     7.5%
High Forecast                  225      225       15     7.7%
Low Forecast                    23      163      -10     7.4%
Number of Participants          92       48       27       85
Previous                       195      202       -6     7.6%
----------------------------------------------------------------
4CAST                          205      220     ---      7.5%
ABN Amro                       200      210     ---      7.5%
Action Economics               170      185        5     7.5%
Ameriprise Financial           180      195       10     7.5%
Banca Aletti                   170      210        1     7.5%
Bank of the West               190     ---         2     7.5%
Bank of Tokyo-Mitsubishi       185     ---      ---      7.5%
Banorte-IXE                    180     ---      ---      7.5%
Barclays                       175      185     ---      7.5%
Bayerische Landesbank          189     ---      ---      7.5%
BBVA                           186     ---      ---      7.7%
BMO Capital Markets            175     ---      ---      7.5%
BNP Paribas                    165     ---      ---      7.6%
BofA Merrill Lynch             180      185     ---      7.5%
Capital Economics              200     ---      ---      7.5%
CIBC World Markets             175     ---      ---      7.5%
Citi                           175      185        0     7.5%
ClearView Economics            190      195       -5     7.6%
CohnReznick                    200      210     ---      ---
Comerica                       185     ---         0     7.5%
Commerzbank AG                 185     ---      ---      7.5%
Credit Agricole CIB            200     ---      ---      7.5%
Credit Suisse                  185      185     ---      7.5%
CTI Capital                    195     ---      ---      ---
Daiwa Securities America       175     ---      ---      7.6%
DekaBank                       180     ---      ---      7.5%
Desjardins Group               190     ---      ---      7.6%
Deutsche Bank Securities       225      210     ---      7.4%
Deutsche Postbank AG           190     ---      ---      7.5%
DZ Bank                        180     ---      ---      7.5%
First Trust Advisors           165      169       -5     7.6%
FTN Financial                  185      195     ---      7.5%
Goldman, Sachs & Co.           200     ---      ---      7.5%
Hammer Partners                175     ---      ---      7.6%
Helaba                         180     ---      ---      7.5%
High Frequency Economics       190     ---      ---      7.5%
HSBC Markets                   165      163        6     7.6%
Hugh Johnson Advisors          183      185        0     7.5%
IDEAglobal                     170      180        5     7.5%
IHS Global Insight             180     ---      ---      7.6%
Informa Global Markets         165     ---         5     7.6%
ING Financial Markets          200      210        5     7.4%
Intesa Sanpaolo                185     ---      ---      7.5%
Investec Securities            205     ---      ---      7.5%
J.P. Morgan Chase              175      185        5     7.5%
Janney Montgomery Scott        170      185        0     7.5%
Jefferies                      195      200        5     7.5%
John Hancock Financial         195     ---      ---      7.5%
Landesbank BW                  210     ---      ---      7.5%
LinkUp                         220     ---      ---      ---
Lloyds Tsb Bank                190      201        0     7.5%
Maria Fiorini Ramirez          185      195     ---      ---
Market Securities              200     ---      ---      7.5%
MET Capital Advisors           195      185     ---      7.6%
Modal Asset                    208      218     ---      ---
Moody's Analytics              185      170       -5     7.6%
Morgan Stanley                 200      209        0     7.5%
National Bank Financial        190     ---      ---      7.6%
Natixis                        190     ---      ---      7.5%
Nomura Securities              175      180        5     7.6%
Nord/LB                        180     ---        -5     7.5%
OSK Group/DMG                  177     ---      ---      7.5%
Oxford Economics               200     ---      ---      7.6%
Pantheon Macroeconomics        200      220     ---      7.6%
Paragon Research               132     ---      ---      7.5%
Pierpont Securities            175      205     ---      7.5%
PineBridge Investments         205      215       15     7.5%
PNC Bank                       175      185      -10     7.5%
Prestige Economics             180     ---      ---      7.5%
Raiffeisenbank International   175      185     ---      7.5%
Raymond James                  195      205     ---      7.5%
RBC Capital Markets            190      195     ---      7.5%
RBS Securities                 185      190     ---      7.6%
Regions Financial              205      216        6     7.6%
Renaissance Macro Research     200      205     ---      7.5%
Santander                      220      225     ---      7.5%
Scotiabank                     185     ---      ---      7.6%
SMBC Nikko Securities          180      185     ---      7.5%
Societe Generale               195      200     ---      7.4%
Southbay Research              163      165     ---      ---
Southern Polytechnic State      87     ---      ---      7.7%
Standard Chartered Bank        190      200     ---      7.5%
Stone & McCarthy               205      212       11     7.4%
TD Securities                  165      170        0     7.5%
TrimTabs                        23     ---      ---      ---
UBS                            195      200     ---      7.5%
UniCredit Research             190     ---      ---      7.6%
Union Investment               185     ---      ---      7.6%
University of Maryland         183      189        2     7.5%
Wells Fargo & Co.              206     ---      ---      7.5%
Westpac Banking Co.            150     ---      ---      7.5%
Wrightson ICAP                 190      195     ---      7.5%
================================================================