Detroit Small-to-Big Vehicle Sales Seen Accelerating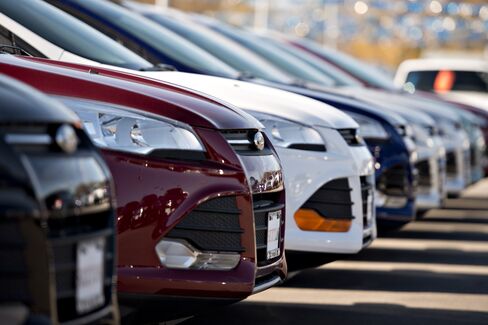 Bill Perkins, a 20-year Chevrolet dealer in suburban Detroit, remembers a time when he had one or two cars worth selling among a showroom of big pickups and sport-utility vehicles.
"Now we've got a full range when it comes to the small cars," Perkins said. Sales at his Taylor, Michigan, store rose 21 percent last month from a year earlier, he said. "It's very refreshing to have people want what you have."
For Detroit, it's the best of both worlds. Small cars coupled with pickups to drive U.S. sales gains among the Detroit Three in July, underscoring the renaissance under way among U.S. automakers that five years ago struggled to sell anything smaller than a truck.
General Motors Co.'s small cars, including the Spark and Cruze, posted a combined sales increase of 42 percent in July, almost matching the 44 percent gain by the automaker's full-sized pickups. Ford Motor Co.'s small cars, including the Fiesta and Focus, combined climbed 32 percent, outpacing the 23 percent advance in F-Series pickups.
"This is new territory for them," Jeff Schuster, an analyst with LMC Automotive, said yesterday in an interview at Bloomberg's Southfield, Michigan, office. "They are actually able to hold their own and take share in some of the segments where they weren't competitive."
Resurgence Continues
Gains reported yesterday by GM, Ford and Chrysler Group LLC, along with increases of at least 11 percent from the three biggest Japanese automakers, extended a resurgence that's putting the market on course for its best year since 2007.
Automobile-related stocks have helped lead this year's rally in the Standard & Poor's 500 Index, suggesting that investors expect the sales gains for GM and Ford to continue. The S&P 500 Automobiles & Components Index of seven companies has climbed 32 percent this year, the second-biggest advance among 24 industry groups in the benchmark gauge for U.S. equities.
Ford's shares have increased 33 percent while GM has risen 27 percent this year, outpacing the 20 percent advance in the S&P 500, which climbed to a record yesterday. Ford's shares have outperformed technology companies from Apple Inc. to Google Inc. and Microsoft Corp. this year, while investors are willing to pay an increasing amount per each dollar of profit to own GM shares, according to data compiled by Bloomberg. GM's price-to-earnings ratio reached 13.6 last week, the highest since its November 2010 initial public offering, the data show.
'Mounting Evidence'
GM total sales rose 16 percent, with all four of its brands gaining more than 13 percent. Results included a 38 percent surge for the redesigned Chevrolet Impala, praised by Consumer Reports magazine as the best sedan in the U.S. Sales of cars and light trucks climbed 11 percent for both Ford and Chrysler, which was also aided by deliveries of its pickups and new Dodge Dart small car.
"There is mounting evidence that the three 'domestic' automakers, long known for their strength in light trucks, are turning out more competitive cars and that consumers are noticing," Tom Libby, an auto analyst for R.L. Polk & Co., wrote on the company's blog.
The improved product comes as low interest rates and competitive lease deals are helping boost new car sales, because Americans tend to buy vehicles based on monthly payments. Industry demand remains on pace for its best showing in six years as consumers replace the oldest cars and trucks ever on U.S. roads.
The auto industry is outperforming the broader U.S. economy, which grew at an annualized rate of 1.7 percent in the second quarter, Commerce Department figures showed this week. Growth has averaged 2.2 percent during the expansion that entered its fifth year in July, a slower pace than the first four years of the last three economic recoveries, said Ellen Hughes-Cromwick, Ford's chief economist.
Outpacing Economy
Auto sales have managed to plow through, climbing at least 10 percent each of the last three years. Before 2010, the U.S. auto market never expanded by that much without at least 3.4 percent growth in gross domestic product, said Tom Webb, chief economist for Manheim Consulting.
"The automotive sector of our economy has now contributed greatly to overall growth during this expansion," Hughes-Cromwick said yesterday on a conference call.
The improvements in Detroit are giving Japanese automakers new competition in areas that have long been their stronghold.
Sales of GM's Chevrolet Cruze, for example, rose 70 percent, marking the best July ever for the compact car, according to the automaker. The results were better than sales of Toyota Motor Corp.'s comparably sized Corolla sedan.
"I've never taken in more Toyotas, Hondas, Fords," said Duane Paddock, whose family has owned its Chevrolet dealership outside of Buffalo for 77 years. His dealership last month sold 140 Cruze sedans, which is "killing Corolla," he said.
Japanese Gains
Toyota is still kicking. Its sales rose 17 percent while Honda Motor Co. deliveries rose 21 percent, aided by a 30 percent surge of Civic small cars to 32,416, breaking a 13-year-old July sales record. Toyota topped Ford by 314 vehicles, according to researcher Autodata Corp., which excludes heavy-duty trucks.
The popularity of Ford's new Fusion sedan has left inventory low and the automaker is working hard to add production at a second factory this quarter.
Fusion deliveries slipped for a second-consecutive month, declining 12 percent in July after a 0.5 percent drop in June. Including Fusions that are on trucks and rail cars on their way to dealerships, Ford said it has only about 40 days supply of the car, less than the industry standard of 60 days.