Putin Shows Global Mojo to Russians as U.S. Fumes Over Snowden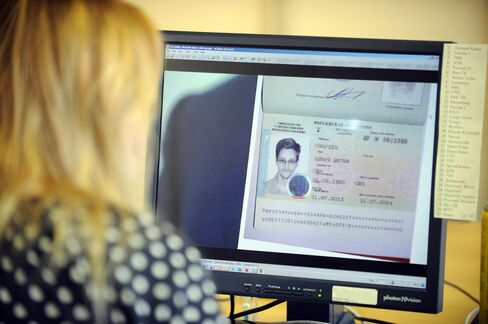 Russian President Vladimir Putin is showing his gamesmanship on a global stage by giving his voters what they want with the asylum granted to ex-U.S. contractor Edward Snowden, while leaving the White House flustered.
The decision is backed by almost twice as many Russians as those against it and those who view Snowden's role as positive outnumber negative assessments three to one. While the case risks derailing U.S.-Russian relations, it gives Putin a chance to rally support at home and deflect attention from his own human-rights record, said Gleb Pavlovsky, a former Kremlin adviser who heads the Effective Policy Foundation in Moscow.
"Domestically, he got what he can," Pavlovsky said by phone yesterday. "His main propaganda message domestically will be that things are similar everywhere: the CIA and the FBI violate human rights just like everybody else."
Putin, who used Russia's oil-powered wealth accumulation to build support for his 13-year rule, is facing an economy that threatens to slide into recession. Over the past two years, he also stared down the biggest opposition rallies since he came to power and has been the target of criticism for cracking down on protest leaders.
Opposition organizer Alexey Navalny last month received a five-year prison sentence, which he is appealing while he campaigns for Moscow's mayoral elections next month. Economist Sergei Guriev and former chess champion Garry Kasparov, critics fearing prosecution, fled Russia this year.
Three members of all-female punk group Pussy Riot were convicted last August after a protest targeting Putin. One was later freed on appeal.
Slowing Growth
The backdrop for authorities going after opposition voices is a darkening economic picture. Growth slowed to half of last year's pace in the first six months, according to the Economy Ministry. Manufacturing unexpectedly shrank last month, HSBC Holdings Plc. said yesterday, citing data compiled by London-based Markit Economics.
There's a 30 percent chance of a recession next year, up from 20 percent a month ago, according to the median estimate of 13 economists in a Bloomberg survey published July 25.
While Russia lacks the economic power that China or the West wield, it strives to be treated as an equal and the Snowden affair gave Putin an opportunity to show that, according to Lilit Gevorgyan, senior analyst for Russia and the Commonwealth of Independent stats at IHS Global Insight.
"Russia continues to seek a role in what it sees as a small club of world players," she said by e-mail yesterday. Returning Snowden to the U.S. "would undermine Russia's bid to promote globally an image of a major geopolitical player offering an alternative to the western-dominated world."
Russian Opinion
That plays well with Putin's domestic audience, according to a survey released by the polling company Levada Center on July 31. Forty-three percent backed giving Snowden asylum in a July 18-22 poll of 1,601 Russians, compared with 29 percent against it, according to the poll.
Fifty-one percent approve of the former security contractor's decision to reveal secret surveillance programs in the U.S., while 17 percent disapprove, it showed. The results had a margin of error of 3.4 percentage points.
The move was "absolutely forced," said Fyodor Lukyanov, head of the research group Foreign and Defence Policy Council in Moscow. The U.S. refusing to allow Snowden to seek asylum in a third country left Russia with little choice, he said.
"Russia can't give him to the U.S. for political and moral reasons," Lukyanov said by phone yesterday. "Russia doesn't need Snowden -- nobody knows what to do with him. But no other solution was available."
Summit Threatened
Snowden's presence in Russia has raised tensions with its former Cold War foe before U.S. President Barack Obama is scheduled to make his first visit to Russia since Putin was re-elected to a third Kremlin term in March 2012. The two leaders are due to meet in Moscow in early September during Obama's trip to Russia for a meeting of Group of 20 nations.
The one-year asylum, which ended the former U.S. contractor's 39-day stay in the transit area of Moscow's Shremetyevo airport, prompted Obama to weigh the cancellation of the summit.
The U.S. is evaluating the "utility" of the meeting, according to White House spokesman Jay Carney, who said the president is personally "extremely disappointed." Putin's spokesman, Dmitry Peskov, declined to comment.
The tension over Snowden threatens to scupper Russia's plans to use the G-20 summit in St. Petersburg to shore up investor confidence, according to Chris Weafer, senior partner at Macro Advisory in Moscow.
Bad Timing
"The timing couldn't be worse," Weafer wrote in a report yesterday. "The Kremlin had hoped to use the G-20 as a platform to try, once again, to position Russia as an attractive investment opportunity."
While Putin himself was taken hostage by the events to a certain extent and the decision to grant Snowden asylum is "absolutely irrational" from the perspective of international relations, Russia "decided to make use of Snowden" to put pressure on the U.S., Alexei Malashenko, an analyst at the Moscow Carnegie Center, said by phone yesterday.
"The pressure is to show that we weren't born yesterday," Malashenko said. "That's the Russian sentiment on everything, whether it's Iran, Syria or relations with China."
Before it's here, it's on the Bloomberg Terminal.
LEARN MORE