Kellogg CEO Challenged on Rain Forest Harm by Activist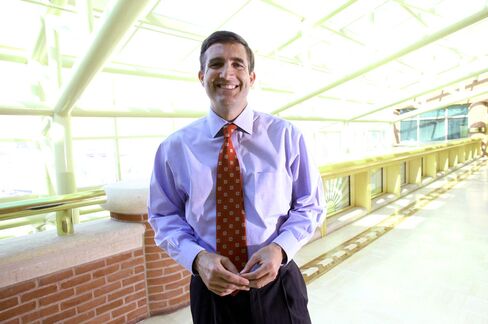 Kellogg Co. Chief Executive Officer John Bryant found himself ear-to-ear with a shareholder activist on yesterday's earnings conference call.
Lucia von Reusner, who works for Boston-based Green Century Capital Management Inc., wanted to know what the world's largest cereal-maker planned to do about allegations that a China partner, Wilmar International Ltd., has contributed to the destruction of rain forests.
Kellogg is the latest target of environmental groups looking to stop the plowing under of Southeast Asian rain forests to farm palm oil, which is used in everything from food to beauty care. SumOfUs, a Web-based U.S. environmental group, simultaneously presented a petition at Kellogg's headquarters in Battle Creek, Michigan, asking the cereal maker to get tough with Wilmar or end its supply and distribution joint venture with the company.
"As a company publicly committed to sustainability, how will Kellogg ensure that the Kellogg brand is not associated with the illegal deforestation that its partner Wilmar has been accused of," von Reusner said on the call. "How will you ensure the Kellogg brand remains sustainable and all that?"
Bryant defended the company's record on sustainability and in an interview minutes after the call said: "We take the whole area of sustainability of palm oil very seriously. We buy sustainably sourced palm oil, and where it's not available we buy the green certificates to cover it."
Summer Intern
Such certificates, purchased by companies from certified palm oil producers and traded on special exchanges, allow companies to claim they have supported the sustainable production of palm oil, according to trading platform GreenPalm.
Von Reusner, who formerly worked at Greenpeace International as an unpaid summer intern, said she decided to use the earnings call to find out how Kellogg is addressing the kinds of issues raised by SumOfUs. Green Century Capital said it was founded by non-profit environmental advocacy groups to invest in socially responsible companies, and profits help fund the groups' priorities.
Kellogg "has some good policies in place around palm oil," she said. "It's always difficult to know and monitor what your suppliers are doing all the time."
Green Century Capital holds Kellogg as part of a passive index fund, von Reusner said.
"It's a complicated issue," she said of Kellogg's answer on the call, adding that she plans to follow-up. "It's hard to get into everything on that short amount of time."
Green Score
More than 60 percent of Wilmar's plantations are certified as sustainable, and the company aims to get the remainder completed by 2016, Iris Chan, a spokeswoman for Wilmar, said in an e-mail.
"Wilmar is committed to developing and cultivating its plantations in a responsible and sustainable manner that looks into safeguarding the intrinsic value of the ecosystem, including endangered fauna like the orangutans and Sumatran tigers," Chan said.
Bryant declined to address the allegations against his 50-50 joint venture partner.
"I don't know enough about Wilmar's practices in this area," he said. "It's something that the activists should really take up with Wilmar to determine the best path forward with them."
Newsweek Ranking
Wilmar ranked last among Newsweek's 500 most sustainable companies, receiving a "green score" of 20.4 out of 100. The score was based on everything from a company's greenhouse gas emissions to its environmental policies. Wilmar, the world's largest palm oil trader, generates almost three-quarters of its revenue from China and Southeast Asia, according to data compiled by Bloomberg.
"We look at our partners from a lot of different angles, as you'd expect when you're dealing in the emerging markets," Bryant said when asked how Kellogg vets potential partners. "We're very fortunate that Wilmar is a publicly listed company in Singapore. It has good governance."
SumOfUs encouraged consumers to call Kellogg yesterday, said Rob Wohl, a campaigner in Washington for the organization.
"We're optimistic they'll come around once it's clear how seriously consumers are taking us," he said.
Palm oil has tripped up companies in the past. In 2008, activists at Greenpeace spoofed Unilever's "Campaign for Real Beauty" ads for Dove soap that showed aging women's faces as attractive and worth valuing. Greenpeace's version, called "Dove Onslaught(er)" showed small Asian girls' faces amid images of chainsaws and fires ripping through rain forests.
On its website detailing its beef with Kellogg, SumOfUs depicts the company's cartoon spokesman Tony the Tiger with his thumb up next to the words, "Kellogg: Don't let me go extinct. Stop Deforestation now!"
Kellogg reported profit, excluding some items, of $1 a share yesterday. The average of 19 analysts' estimates compiled by Bloomberg was 97 cents. The shares declined 0.3 percent to $65.23 at the close in New York.
Before it's here, it's on the Bloomberg Terminal.
LEARN MORE