Herbalife Finds a New Way Around an Old Criticism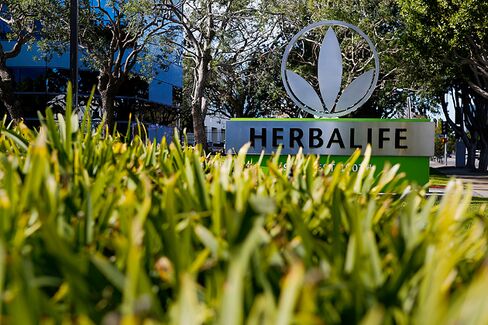 George Soros may have bought into Herbalife (HLF), but the company just made a major shift because of the man who's bet $1 billion against it. Activist investor Bill Ackman calls the company a pyramid scheme that gets most of its money by signing up distributors who never distribute. Herbalife contends that's because the distributors only want to buy for themselves, and, as if to prove so, it will now call them "members" instead.
The new category could apply to about about three-quarters of the company's 3.2 million distributors, those who, by Herbalife's own calculations, never sell to anyone else. Chief Executive Officer Michael Johnson didn't discuss details of the program; he downplayed the new-member category as soon as he announced it during a July 30 earnings call, saying the goal was to "simplify the terminology." As he said, "the changes will help clarify misinformation introduced into the market and spread to special interest groups here in America who have been badly deceived about how our business really works."
The debate about Herbalife—and many other multilevel marketing companies—is what drives people to buy. The big money is in recruiting other distributors. At the same time, Herbalife isn't available in stores, and it's possible that power users could sign up in order to stock their own pantries. The company doesn't break down how much of its revenue — $1.2 billion this quarter — comes from products vs. training, upfront fees, and other costs.
The key, of course, will be whether Herbalife now treats its "members" as pure customers. That's the hope of Brent Wilkes, who heads the League of United Latin American Citizens. He and other leaders of Latino workers' groups met with officials from the Federal Trade Commission in July to ask that they investigate Herbalife's practices. (About two-thirds of the company's U.S. distributors are from the Latino community.) He argues that Herbalife wins people with the promise of an exciting business opportunity, not a smaller waistline. The emphasis is on selling, not consuming.
Getting a membership at Costco or a gym is pretty easy, he points out. You fill out one page, not 25, and the company is focused on how to keep you happy enough that you want to consume more. As for Herbalife, "if they're going to treat those individuals like members, that would be great," says Wilkes. "If they treat their members like entry-level distributors who feel pressure to sell, then it's just window dressing."
Herbalife's Johnson said the company's growth comes from demand for its core products. Despite Ackman's criticisms—or perhaps because investors such as Soros, Carl Icahn, and Daniel Loeb bought Herbalife in reaction—the current system seems to be working just fine. Herbalife's stock is up since Ackman made the case against it in December, and the company has posted its 15th straight quarter of double-digit revenue growth.
So why change a winning formula? Perhaps because so many of the people who buy Herbalife products never sell them to anyone. If they're distributors, that's a failure. But if, as Johnson says, they're members who only ever planned to buy for themselves, it's no big deal. The question is whether that's how his new members see themselves.
Before it's here, it's on the Bloomberg Terminal.
LEARN MORE