Chesapeake Quarterly Profit Beats Estimates on Production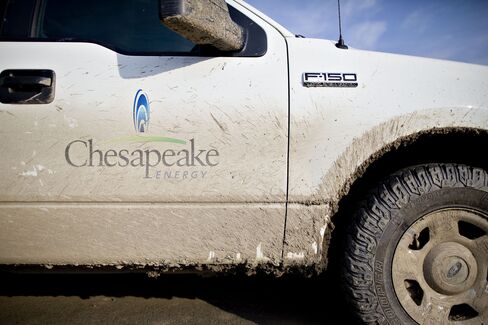 Chesapeake Energy Corp., the U.S. natural gas producer that hired a new chief executive officer in June, reported quarterly profit that beat analysts' estimates as production exceeded expectations.
Second-quarter net income was $580 million, or 66 cents a share, compared with $972 million, or $1.29, a year earlier, the Oklahoma City-based company said in a statement today. Excluding one-time gains and losses, per-share profit was 10 cents higher than the 41-cent average of 32 analysts' estimates compiled by Bloomberg. Sales rose 38 percent to $4.68 billion on higher output and prices.
Chesapeake, producer of more U.S. gas than any explorer except Exxon Mobil Corp., is under less pressure to raise cash through asset sales amid rising fuel prices and a production shift to higher-margin byproducts such as propane. Under new CEO Robert "Doug" Lawler, Chesapeake is on track this year to limit capital spending to the company's cash flow for the first time since 2001.
"A comprehensive companywide review of our capital allocation and other processes is underway," Lawler said in today's statement. "These initiatives will result in substantial further improvement in both near-term and long-term capital efficiency and returns."
The shares jumped 7.1 percent to $24.95 at the close in New York, the biggest gain in almost a year.
Hedging Gains
Gas, which accounted for 75 percent of Chesapeake's output during the quarter, rose 71 percent to a second-quarter average of $4.018 per million British thermal units from the year-earlier period, according to data compiled by Bloomberg. The benefit of that rally to Chesapeake's profit was overshadowed by gains in the year-earlier period of more than $1 billion from asset sales and unrealized, after-tax hedging gains.
Chesapeake produced 116,000 barrels a day of oil in the past quarter, and 3.1 billion cubic feet of gas.
"Results look solid and there was continued strong operational performance," Scott Hanold, a Minneapolis-based analyst for RBC Capital Markets LLC, wrote today in a note to clients, crediting the earnings beat to higher production. RBC rates the shares at sector perform, equivalent to hold, and Hanold owns none.
Hedging gains were $325 million in the past quarter and the sale of pipelines and processing assets at higher than book value added $68 million to results. The company had one-time costs to write down property, and to repurchase debt and preferred shares of a subsidiary.
Higher Output
Average daily production this year will be equivalent to 3.99 billion cubic feet of natural gas, up 0.6 percent from a May estimate, according to the statement. Total output of more valuable oil will be 1 million barrels higher than forecast in May, reaching 38 million to 40 million barrels.
Costs fell 20 percent to 78 cents per thousand cubic feet equivalent of gas.
Operating cash flow will be $5.05 billion to $5.1 billion for 2013, according to the statement. That's down from a May estimate of $5.2 billion to $5.3 billion as the company lowered its gas-price forecast.
Chesapeake has sold or arranged to divest $3.6 billion in oil fields, pipelines, real estate and other assets so far this year, after shedding about $11 billion in property in 2012, according to company filings and statements. More sales may close before year-end, according to today's statement.
Lawler, a former Anadarko Petroleum Corp. executive, took the lead job at Chesapeake after company co-founder Aubrey McClendon stepped down as CEO April 1. Lawler said last month that the divestitures already announced this year, combined with projected proceeds from gas and oil sales, will allow the company to live within its cash flow. Any additional asset sales will be used to retire debt, Lawler said in a July 3 statement.
Before it's here, it's on the Bloomberg Terminal.
LEARN MORE