A Small Employer Weighs Obamacare Options to Cut Costs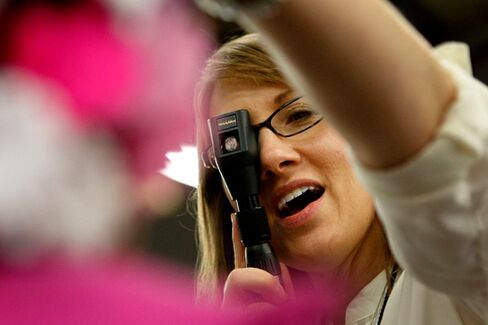 Question: We have one full-time employee at our business who arranges his own medical and dental insurance plans. We pay all his premiums up to $7,200 per year, with his individual co-pays and any additional cost deducted from his salary. Would our cost be lower if we set up a company health-care plan under Obamacare or had him join a health-care exchange?
Answer: Like many small business owners, you will need to do some research—and some math—to figure out whether there will be a potential for cost savings from the upcoming changes to the insurance market in the next six months, as major provisions of the Affordable Care Act are rolled out.
It would be smart to talk to a local insurance broker who is well-versed in all the options for a company like yours, because even though you only have one employee and you're not mandated to provide coverage, there are a lot of moving parts in your situation.
One major variable is your business location. It may be cheaper to purchase insurance for your employee on the Small Business Health Options Program (SHOP) exchanges that are in the works in 17 states and the District of Columbia, for instance. Premium rates for various coverage levels on the SHOPs are being determined now on a state-by-state basis. In states that have opted not to operate their own exchanges, small business owners will be able to buy coverage through federal exchanges.
Both the federal and state exchanges will allow small business owners to compare health plans and buy employee insurance, with enrollment beginning on Oct. 1 and coverage starting on Jan. 1, 2014.
You may also have the option to stop offering to pay for your employee's insurance directly and have him purchase his coverage through an individual Obamacare exchange. This could be a "game changer" for your company, says Kate Saracene, a Rochester (N.Y.) attorney with Nixon Peabody who specializes in helping employers comply with health and welfare law, particularly if your employee is eligible for a federal subsidy to help him buy coverage. Federal subsidies are projected to be available to singles with income of as much as $45,960 and families of four with income up to $94,200.
If you wanted to help him pay for his individual coverage after his subsidy, or if he does not qualify for a subsidy, the safest way to do that would be to bump up his salary or give him a taxable cash bonus, Saracene says: "If your company pays the premiums directly, it might be viewed as providing employer coverage that could disqualify your employee from receiving the subsidy in the first place."
Here's another question for your broker: Does the U.S. Department of Labor currently categorize your arrangement with your employee as a company health plan, even though he sets up his own policies? It's possible, Saracene says: "Under the Employee Retirement Income Security Act [Erisa], the federal law governing private-sector employee benefit plans, when an employer pays insurance premiums in the method you describe, the underlying insurance is usually deemed to be an employer-sponsored plan."
If this is the case, that means you should be complying with regulations on items like plan documentation and annual notices. "In other words, your current arrangement likely has all of the downside of employer-sponsored coverage, but without any of the benefits," she says.
Another variable for you to consider is that the ACA gives some small businesses incentives to provide health coverage, including a federal tax credit to help pay for the cost of premiums.
Since you've been paying for your employee's insurance all along, ask your tax preparer to help you determine whether you can claim that credit for this tax year, while it's at 35 percent, or for tax year 2014, when the credit will go up to 50 percent of the employer's cost. (The credit is available for two consecutive years to small employers with fewer than 25 employees whose average wages do not exceed $50,000 annually.)
If you want to claim the credit, beginning in 2014 it will be limited to employers who purchase insurance through a SHOP—another item to factor into your cost-savings equation.
Before it's here, it's on the Bloomberg Terminal.
LEARN MORE