Growing Payrolls Probably Cut Unemployment: U.S. Economy Preview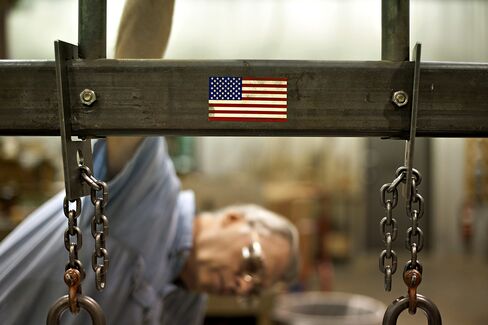 Employers probably added jobs in July at about the same pace as in the prior month, helping trim unemployment as the U.S. economy emerged from a second-quarter slowdown, economists said before reports this week.
Payrolls rose by 185,000 after a 195,000 gain in June, and the jobless rate fell to 7.5 percent from 7.6 percent, according to the median forecast of economists in a Bloomberg survey ahead of Labor Department data due on Aug. 2. Other figures may show gross domestic product grew at a 1 percent annualized rate from April through June compared with 1.8 percent in the previous three months.
Growth was held back last quarter by the effect of cutbacks in federal government spending and higher taxes that are projected to fade in the remainder of 2013, allowing a pickup in demand that would sustain hiring. Federal Reserve policy makers, set to meet this week, will evaluate progress in the economy and the job market as they consider trimming monthly bond purchases.
"Hiring has been remarkably stable for the most part and there's no reason to suspect that won't continue," said Brian Jones, a senior U.S. economist at Societe Generale in New York. "Economic growth is going to accelerate in the second half. Everybody is penciling in a tapering by the Fed in September."
Overall payroll gains averaged 202,000 a month in the first half of this year, up from 180,000 in the final six months of 2012. Such gains are typically linked with GDP growing close to 3 percent, about double what government data may show this week, say economists at UniCredit Group and Deutsche Bank Securities Inc.
GDP Revisions
The Commerce Department's second-quarter GDP report on July 31 will also include comprehensive revisions that could affect data back to 1929. The new figures may help narrow the difference between employment and growth, the economists said.
The Fed will begin trimming its $85 billion in monthly bond in September, according to a growing number of economists surveyed by Bloomberg from July 18 to July 22. None of the 54 respondents expect the reductions to begin following the central bank's meeting on July 30-31.
The Standard & Poor's 500 Index was little changed last week as investors weighed second-quarter earnings against the prospect for a change in Fed policy. The gauge has climbed 18.6 percent so far this year.
The GDP report may also show consumer spending, which accounts for about 70 percent of the economy, grew at a 1.6 percent annualized rate from April through June, according to the Bloomberg survey median. The prior quarter's 2.6 percent pace was the strongest since the first three months of 2011.
Payroll Tax
Some of the slowdown in consumption may have been the lingering effect of the payroll tax, which reverted to its 2010 rate of 6.2 percent in January after holding at 4.2 percent for two years, resulting in lower take-home pay.
At the same time, gains in property values and share prices are lifting consumer confidence and helping households keep spending. A July 30 report from the Conference Board, a New York-based research group, will show its sentiment gauge in July was little changed from the five-year high reached in June.
Americans are increasing purchases of big-ticket items such as automobiles. Cars and light trucks sold at a 15.9 million annualized rate in June, the strongest since November 2007, according to figures from Ward's Automotive Group.
Ford Motor Co., the second-largest U.S. automaker, reported second-quarter per-share profit excluding some items that beat the average estimate of analysts surveyed by Bloomberg. The Dearborn, Michigan-based company said it'll hire 3,000 salaried employees this year, 800 more than originally planned.
Factory Rebound
Automobile sales are also helping to sustain factory activity. The Institute for Supply Management's index of manufacturing, due on Aug. 1, advanced to a five-month high in July, according to the Bloomberg survey.
United Technologies Corp., the maker of Carrier air conditioners, Pratt & Whitney jet engines and Otis elevators, is among companies citing gains in auto sales and housing starts as reasons to expect an improvement in coming quarters.
"The economy is recovering and we are seeing strength in the leading sectors," Gregory Hayes, chief financial officer at the Hartford, Connecticut-based company, said on a July 23 earnings call. "Talk about economic uncertainty remains, but overall, our orders position us well for growth in the second half of the year."
Other reports this week may show consumer confidence is rising amid the real-estate rebound. The S&P/Case-Shiller index of home prices in 20 U.S. cities rose 12.4 percent in May from the same month in 2012, the biggest year-over-year increase since February 2006, economists surveyed by Bloomberg predicted. The figures are due on July 30.
                        Bloomberg Survey

===============================================================
                        Release    Period    Prior     Median
Indicator                 Date               Value    Forecast
===============================================================
Case Shiller Monthly MO   7/30      May       1.7%      1.5%
Case Shiller Monthly YO   7/30      May      12.1%     12.4%
Consumer Conf Index       7/30      July      81.4      81.0
GDP Annual QOQ%           7/31      2Q A      1.8%      1.0%
Personal Consump. QOQ%    7/31      2Q A      2.6%      1.6%
Initial Claims ,000's     8/1      26-Jul     343       344
Construct Spending MOM%   8/1       June      0.5%      0.4%
ISM Manu Index            8/1       July      50.9      52.0
Vehicle Sales Mlns        8/1       July      15.9      15.8
Nonfarm Payrolls ,000's   8/2       July       195       185
Unemploy Rate %           8/2       July      7.6%      7.5%
Hourly Earnings MOM%      8/2       July      0.4%      0.2%
Hourly Earnings YOY%      8/2       July      2.2%      2.2%
Pers Inc MOM%             8/2       June      0.5%      0.4%
Pers Spend MOM%           8/2       June      0.3%      0.5%
Factory Orders MOM%       8/2       June      2.1%      2.3%
==============================================================
Before it's here, it's on the Bloomberg Terminal.
LEARN MORE