London Weekend: Prince George's Palace, Beer Fiesta, Chic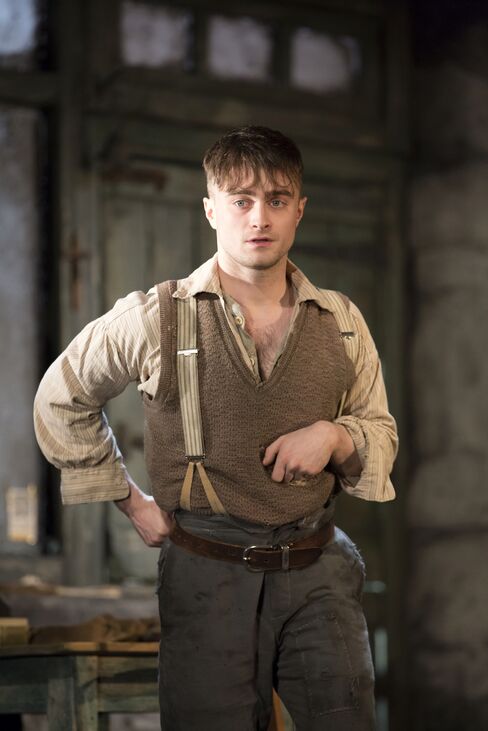 Prince George's palace, Daniel Radcliffe's new role, a beer festival in the Olympic Park, and Chic are our choices for London this weekend.
STAGE
In "The Cripple of Inishmaan" -- set in 1934 on a distant Irish island -- Radcliffe plays a young man with contorted limbs who hears an American film crew is hiring extras in a nearby village. It's a chance for him to boost his fortunes and escape the locals' constant taunts. Soon, he finds himself a love interest, too: the no-nonsense, dirty-mouthed Helen.
Director Michael Grandage brings the right mix of pathos and laughter to the play, and there are handsome revolving sets of gray stone. Through Aug. 31 at the Noel Coward Theatre: http://www.michaelgrandagecompany.com or +44-844-482-5140.
DINING
Casse-Croute is a tiny French bistro that just opened on Bermondsey Street, a stretch of road that's becoming a destination for diners. It's the creation of Herve Durochat, a veteran of the London restaurant scene, with the former assistant head sommelier of the Arts Club (Alexandre Bonnefoy) and former head chef at Morgan M (Sylvain Soulard.) Open from 9 a.m. to 10 p.m. with a menu that changes daily. 109 Bermondsey Street, SE1 3XB. Information: +44-20-7407-2140. (No website.)
Burger wars are raging in Covent Garden, where two U.S. chains opened this month within minutes' walk of each other. Danny Meyer's Shake Shack brings a taste of New York with burgers, hot dogs and frozen custard. Information: http://www.shakeshack.com/location/london-covent-garden/ or +44-20-3598-1360. Five Guys offers hand-cut fries and a range of 14 toppings at no extra charge. Information: http://fiveguys.co.uk/ or +44-800-083-3005.
VISUAL ARTS
Visit the home of the newborn royal baby George -- and size up his grandma's wardrobe.
Kensington Palace (the museum side of it) is showing dresses worn in the 1980s by the late Princess Diana. Featuring beads, dropped waists and the odd bow, they're not her prettiest outfits. For a better glimpse of her style, watch the video.
Also on display: the Queen's slim-waisted 1950s gowns, and bolder numbers worn by her sister Margaret, including an Oriental kaftan and turban she threw on for a party in Mustique.
"Fashion Rules" is at Kensington Palace. Information: http://www.hrp.org.uk/KensingtonPalace or +44-844-482-7777.
Buckingham Palace, too, is letting the public in (during the Queen's vacation at Balmoral in Scotland). This year's show -- marking the 60th anniversary of the coronation -- has her throne and diadem, and the formal invitation sent to her four-year-old son Charles.
"The Queen's Coronation 1953" ends Sept. 29 at Buckingham Palace. Information: http://www.royalcollection.org.uk or call +44-20-7766-7300.
MUSIC
Nile Rodgers is in London and relishing his triumphant comeback with the single of the summer. He's been top of the charts with "Get Lucky," a song he wrote with Daft Punk.
Rodgers, reunited with his band Chic after fighting prostate cancer, will perform some of his biggest hits such as "Le Freak." Expect also versions of tracks he wrote with David Bowie, Madonna and Sister Sledge.
Saturday, Indigo2, Millennium Way, Greenwich, SE10 0DX. Information: +44-844-844-0002, http://www.theindigo2.co.uk.
Daniel Barenboim and the Staatskapelle Berlin will spend the weekend tackling multiple betrayals and the wrath of the gods. They conclude the Proms "Ring" cycle on Sunday with "Gotterdammerung," starring Nina Stemme and Andreas Schager. "Siegfried" is on Friday.
OTHER LONDON OUTINGS
A year after the start of the London 2012 Olympics, the Sainsbury's Anniversary Games are bringing the world's star athletes back to the stadium.
Also on site: the Open East Festival, inviting you to bounce on Jeremy Deller's inflatable Stonehenge replica, sample beer from local breweries, and buy works direct (while meeting artists including Gavin Turk) at the Art Car Boot Fair: http://queenelizabetholympicpark.co.uk/events/2013/6/open-east.
Elsewhere, English National Ballet is celebrating Rudolf Nureyev, the Tatar superstar who died 20 years ago this year. Highlights: "Petrushka" (premiered by the Ballets Russes in 1911) and Nureyev's staging of "Raymonda."
"A Tribute to Rudolf Nureyev" runs July 25 to 27 at the Coliseum. Information: http://www.ballet.org.uk or call +44-20-7581-1245.
(Farah Nayeri writes for Muse, the arts and leisure section of Bloomberg News. The opinions expressed are her own.)
Muse highlights include New York and London weekend guides and Lewis Lapham on history.