Citigroup's Surprise Index Lives Up to Its Name
Today marks the second day in a row we're seeing better-than-expected economic data from Europe: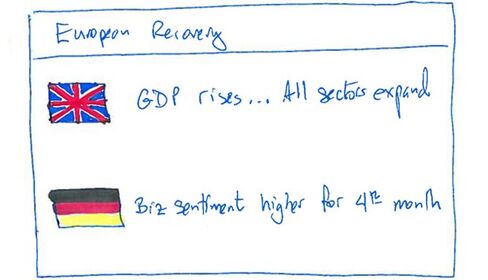 For the first time in three years, all primary industries in the U.K. expanded during the second quarter, underscoring the breadth of the recovery. Considering today's higher German business sentiment and yesterday's EU manufacturing rebound, we've seen a number of positive surprises from Europe recently.
The team at Citigroup aggregates the data in their "Economic Surprise Index." Better-than-expected results add to the index, worse results subtract. It's cumulative, so you can follow the trend over time. Note the improvement since mid-April.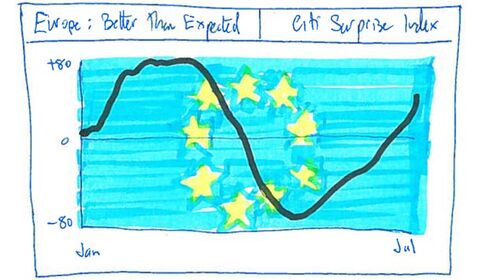 Citigroup tracks data for a number of countries and regions around the world. Comparing data from the U.S. and Europe, we think you'll agree, The Surprise Index lives up to its name:
Still, the difference between Europe and the U.S. comes as no surprise to currency traders. They've taken the euro from $1.28 to $1.32 in just 12 trading sessions. Citi's own FX team opines in this morning's note "some of the positives are already priced in," though they leave the door open to further appreciation.
Blog readers will also appreciate a contrarian indicator from Commerzbank: 51 percent of EU companies surveyed this week are bearish the euro, double last month's reading and the most negative since May 2012. Sentiment extremes among fearful hedgers can draw attention, as the herd often gets it wrong.