Cabela's Finds It's Good to Be a Bank in the Gun Business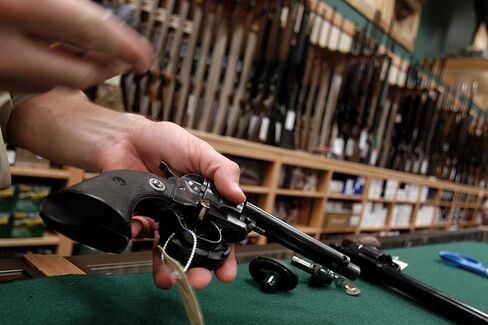 Cabela's, a 44-store empire of outdoor gear, has plenty of firearms and financial products—and its business model is a reliable hit with otherwise jittery consumers and an increasingly successful way of hitting targets on Wall Street.
The retailer, which is based in Sidney, Neb., once again topped analysts' estimates in the last quarter with net income surging 31.5 percent. Cabela's shares are now up almost 60 percent on the year and trading at a premium above the shares of such rivals as Target, Wal-Mart, and Hibbett Sports. Behind that growth? Guns, gun-related accessories, and credit cards. Cabela's said Thursday that rifle scopes, binoculars, and footwear are driving sales, along with firearms, and many customers are using the company's plastic to pay.
There's often reason to be wary of retailers that rely on gun revenue, which is sensitive to legislative battles and not as profitable as many outdoor products. But for Cabela's, firearms have proven a powerful way to catch customers. Credit Suisse estimates that one in five of its gun customers are new to the store, and those first-time shoppers are more likely to stick around and buy other things, such as camo coveralls, fishing lures, or a mounted buffalo head. "They're coming back more often and buying more," Cabela's chief financial officer, Ralph Castner, said on Thursday's earnings call.
Cabela's credit cards, which link to a loyalty program and are used in roughly 30 percent of all sales, also make for a "stickier customer base than most other retailers have," according to a Credit Suisse report. Cabela's now serves 1.7 million credit card accounts, with an average balance of about $2,000. A lot of retailers have branded credit cards, of course, but fewer have in-house banks to service them. Cabela's has its World's Foremost Bank. which is chartered in Nebraska to offer consumer charge cards and sell certificates of deposit of $100,000 and more. That allows Cabela's to avoid paying hefty swipe fees to third-party lenders while collecting another revenue stream from interest payments.
In the recent quarter, financial service revenue at Cabela's grew 12 percent and accounted for 12 percent of all sales dollars. What's more, the company's operating margin on financial services is a plump 30 percent—more than 10 percentage points higher than its retail margin.
Cabela's executives expect gun sales to slow, but they are also getting excited about the Hunger Games sequel that will hit movie theaters in November. "That movie … launched a resurgence of archery," Castner said. "This may give us another push."
Before it's here, it's on the Bloomberg Terminal.
LEARN MORE