Blue Rooster Takes Over Plinth in Trafalgar Square London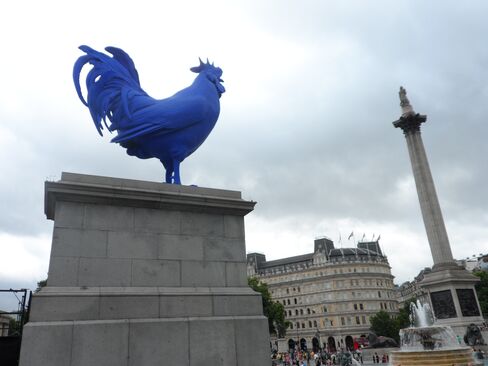 A giant blue rooster was inaugurated today by Mayor of London Boris Johnson on a sculpture platform in London's Trafalgar Square.
Katharina Fritsch's "Hahn/Cock," an ultramarine cockerel meant to symbolize male-dominated Britain, became the most recent artwork to occupy the Fourth Plinth.
Trafalgar Square is named after Admiral Horatio Nelson's defeat of the French Navy in the 1805 Battle of Trafalgar. The square's only vacant plinth is periodically filled by the winner of an art contest organized by the mayor.
"It seems to be a very confident sort of bird," Johnson said. "I think that in some way it expresses something about our city and the general mood of confidence that I detect since the Olympics."
"It's the correct color for a boy, which we've just had: We've just had a prince," said Johnson, referring to the birth this week of Prince William's son George.
The sculpture is glass coated resin, 4.7 meters (15 feet) in size and will be on plinth for 18 months.
"I am making an image of a male animal," the German-born artist said. "Women are getting more and more into the active role, they determine things, they make their way."
"They also create images of men," she said, recalling that women in the past were mostly the muses of male artists, and not creating work themselves. "This is now the other way around."
Rocking Horse
The plinth's previous occupant was artist duo Elmgreen & Dragset's bronze effigy of a boy on a rocking horse. Titled "Powerless Structures Fig. 101," it went up in February 2012 - - the year of the London Olympic Games -- and was kept on until earlier this month.
In 2009, sculptor Antony Gormley had 2,400 volunteers appear on the platform for 100 days as part of his project "One & Other."
And from May 2010 through January 2012, artist Yinka Shonibare produced a replica of Admiral Nelson's vessel which he set inside a bottle and fitted with sails made of patterned African-style textiles.
Muse highlights include Jason Harper on cars, Rich Jaroslovsky on tech and Richard Vines on food.
Before it's here, it's on the Bloomberg Terminal.
LEARN MORE