Why You Probably Won't Remember the 787's Rough Start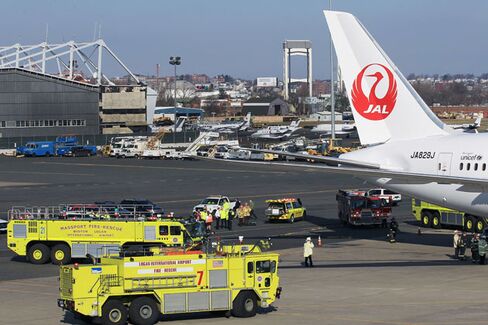 In terms of news media coverage, Boeing's 787 Dreamliner is roughly in the same league as the newborn royal prince: The headlines are unceasing, try as you might to escape them. After its grounding by U.S. regulators early this year, each 787 flight that is now canceled, diverted, or delayed—regardless of how significant the cause—puts the new airplane back in the spotlight.
There are plenty of good reasons for this scrutiny, chief among them the battery-related fires in two of the incidents—and fire is among the worst things to have occur in flight. In January, a Japan Airlines 787 caught fire while parked in Boston, less than two weeks before an All Nippon Airways 787 made an emergency landing on a domestic flight in Japan when a problem with the plane's lithium ion batteries was detected. Those incidents prompted regulators to ground the jet for three months as Boeing redesigned and fortified the batteries' enclosure. Problem solved, right? That's why a fire this month on an Ethiopian Airlines 787 in London put the issue again front and center and renewed questions about the jet. "With a fire, the 787 has fallen in the there-but-for-the-grace-of-God category," Scott Hamilton, managing director of aviation consulting firm Leeham, wrote in an e-mail this week. "Had JAL or Ethiopian occurred while airborne, these could have been tragic outcomes."
Indeed, the latest 787 fire remains a puzzle. British and U.S. investigators are trying to determine what caused the Ethiopian Airlines plane—parked for eight hours after a July 12 flight to Heathrow—to ignite in a blaze that burned through the top of the fuselage. The U.K. Air Accidents Investigations Branch said last week it suspected the lithium batteries in a Honeywell emergency locator transmission beacon and recommended (PDF) that airlines disable the device. Shortly after, the Federal Aviation Administration instructed 787 operators to inspect the beacons. Investigators are focused on a crushed wire in the battery compartment as a possible cause of a short circuit, Bloomberg News reported, citing a person familiar with the probe.
The rash of incidents is real, of course, but that's doesn't mean aviation observers think the sense of public unease has always been sober-minded. "I'm torn between saying the level of [787] attention was adequate and justified or more on the hysterical side," says Patrick Smith, a commercial pilot and author of Cockpit Confidential: Everything You Need to Know About Air Travel. "This isn't the first commercial plane to succumb to what you could call teething problems."
Fortunately, none of the 787's teething problems has caused any passenger injuries—and that's a remarkable contrast to the real harm caused by new airplanes from the 1950s until the '80s. In fact, the 787 was the first plane U.S. regulators had grounded since McDonnell-Douglas's DC-10, which made its commercial debut in the early 1970s. A 1975 crash in Paris killed nearly 350 people, and the DC-10 was grounded four years later after an American Airlines crash in Chicago killed nearly 300 people. Go back as far as the early '50s and recall that one of the first commercial passenger jets, the U.K.-built De Havilland Comet, had a habit of breaking apart in flight due to design flaws.
Such catastrophes are no longer acceptable in aviation, partly due to enormous advancements in design and safety technology and partly to an airline culture that places safe flying above all other operational priorities. Complain all you want about a $4 in-flight candy bar or incessant delays, but you're almost certain, statistically speaking, to travel without injury on a U.S. airline.
The ongoing mysteries around the 787 mishaps represent a bit of a nightmare for Boeing, which has booked nearly 1,000 orders for the plane. Even before its September 2011 entry into service, the 787 was plagued by negative headlines due to three years of delivery delays caused by glitches in Boeing's supplier and assembly programs. The 787, Hamilton noted, "is so high-profile for its groundbreaking technology; and delays; and design issues; and production issues; and delays; and delays; and delays." That leads to heightened public awareness, naturally, but Boeing has lost very few orders due to the reliability questions. (Though at least one tentative customer, Delta Air Lines, is deferring 18 787s that Northwest Airlines had ordered until at least 2020, partially to allow time for all the problems to be sorted.)
"New airplane programs are always high-profile efforts," Boeing spokesman Marc Birtel said in an e-mail. "Not only do they not come around very often, but by their very nature they capture people's imaginations and generate widespread interest and attention. That has been the case from the outset with the 787, just as it was with the 777, 747, and 707 before it. And those other programs also had their share of development and early in-service issues." The 787′s only U.S. operator so far, United, declined to comment.
Part of the problem is the very different media landscape with which Boeing and airlines must now contend during the introduction of a new plane. Twitter, Facebook, and other social media have turned nearly every passenger into a potential reporter. "There is no doubt that the social media megaphone's immediacy, transparency, and hyperbole influence every new product launch and foible, in every category," aviation consultant Robert Mann wrote in an e-mail. "That said, the airplane needs to get out of the headlines and do regularly and reliably what it was designed and warranted to do—fly long-haul markets most efficiently."
Most experts consider the jet's hiccups little more than a temporary blip for an airline program that will likely be in production decades from now, taking us to a time when hundreds of 787s are in service and its record has been improved closer to the 98 percent to 99 percent dispatch reliability rate airlines like to see. (Boeing says its 777 family has a 99.3 percent rate.) "Ultimately," says Smith, "I believe fully that a year or two from now all of this will be forgotten."
Before it's here, it's on the Bloomberg Terminal.
LEARN MORE