Spirit's Growth Focuses on Rival Airline Hubs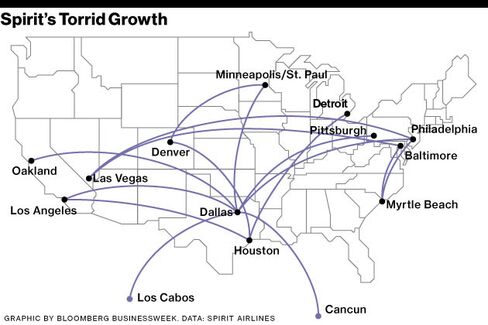 A table of new city pairs from Spirit Airlines' earnings report on Wednesday (pdf) shows new flights the discount airline has added just since April, a torrid pace of growth focused heavily on Dallas-Fort Worth, an American Airlines fortress. Even more noteworthy, however, is that every domestic city on the new-flight roster—save for Myrtle Beach, Latrobe/Pittsburgh and Las Vegas—is a hub airport or "focus city" for players much larger than Spirit. The lesson? As the big guys consolidate, fares in their hub cities rise, leaving space for a niche player to court budget travelers. And while American, Delta and United are hardly nervous about Spirit's expansion, you can bet they're watching closely.
Before it's here, it's on the Bloomberg Terminal.
LEARN MORE