Looking for a Dime's Worth of Difference in Dell Stalemate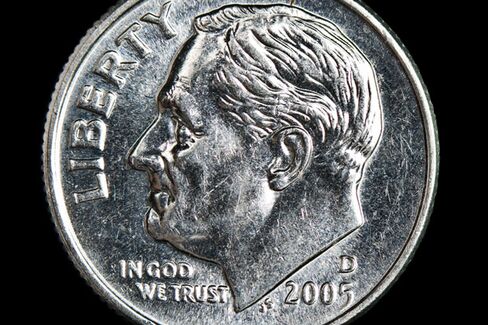 Will Dell's wealthiest shareholders move on a dime?
That's essentially the question today in the continuing saga of founder Michael Dell's private-equity aided effort to take the computer company private. He and Silver Lake Management raised their go-private offer for the company Wednesday by 10¢, to $13.75 per share, contingent on an agreement by Dell's board to a rule change in which nonvoting shareholders won't be counted as opposing the deal.
The shareholder vote had been rescheduled for today, but a special committee of Dell's board overseeing the matter delayed the proceedings for a second time. The vote is now set for Aug. 2, with the revised go-private offer adding about $150 million to the previous Michael Dell-Silver Lake offer valued at about $24.4 billion. About 27 percent of Dell's shares have not been voted so far, Michael Dell and Silver Lake said in a statement today. "The presumption that these shares should be treated as if they had voted against the transaction is patently unfair," the would-be buyers said. The special committee at Dell wants at least $14 per share from founder Michael Dell and Silver Lake Management to consider changing the voting rule, Bloomberg News reported today, citing a person with knowledge of the situation.
Activist investor Carl Icahn, with an 8.7 percent stake in the company, has joined with Southeastern Asset Management to try to thwart the go-private offer, arguing that it undervalues the company. On Tuesday, Icahn blasted Dell's board for favoring the founder's proposal in relation to others and urged against an additional postponement of the vote.
Several other large shareholders have opposed the Dell-Silver Lake offer as inadequate, including T. Rowe Price Group and Pzena Investment Management. Still, it's not clear exactly how some big group, including BlackRock, State Street, and Vanguard, intend to vote—and those institutions are likely to determine the final outcome.
But will a bump of 10¢ be enough to persuade them? This is, after all, a business joust largely among rich people. "A dime won't even get you a phone call," Jim Kelleher, an Argus Research analyst, told Bloomberg News. "There is a risk that the institutional investors who were on the fence at $13.65 will not be neutral but insulted by $13.75 and will swing to team Icahn."
Team Icahn, as it were, responded to the new offer with a Twitter message, as Chief Executive Icahn recently joined the social-media tool:
Before it's here, it's on the Bloomberg Terminal.
LEARN MORE