Bentley to Build an SUV of Its Own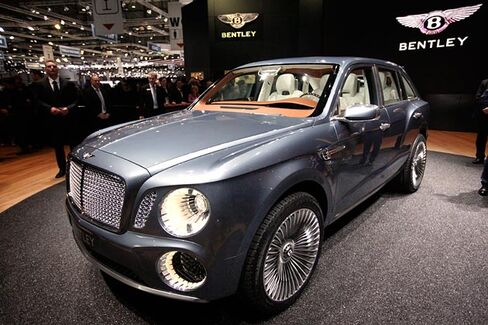 Bentley, storied British marque of burled walnut and wine-hued leather hides, has tossed its bowler into the SUV ring and will produce an off-roader (well, in name only, at least) by 2016, parent company Volkswagen said on Tuesday.
But the question here isn't why is Bentley building an SUV, as everyone from Lamborghini to Maserati has projects in the works, but what took it so long?
After all, Porsche (now a corporate cousin to Bentley after VW purchased it in 2012) came out with its Cayenne SUV (which, at the time, was the height of sacrilege to Porsche purists) back in 2002. Land Rover's Range Rover morphed from a farmer's car to a luxury hauler sometime in the late '90s.
The answer may have to do with the long development cycles each car has, as well as economies of scale that modern automaking relies upon. Let's walk it back a few steps.
Volkswagen purchased Bentley in 1998. At the time, the brand had a small but loyal following, but was by no means a viable automaker. Just getting the company on more sure footing would take a few years. This surer footing would first be established in 2003 with the introduction of the Continental GT, a coupe that sold exceedingly well for Bentley. The Continental GT spawned the Flying Spur, a sedan, in 2005.
O.K., a coupe (and a convertible) and a sedan—that's a totally respectable lineup. What's next? An SUV? No doubt the topic was debated, but Porsche's sales success was not yet certain, and even if it was, Bentley surely saw itself as a different kind of automaker. Therefore the company embarked on making a larger, even more luxurious sedan to compete with former sibling/now rival Rolls-Royce. The Bentley Mulsanne was introduced in 2010.
Now there was time for an SUV—its status as an upmarket car was already confirmed by other automakers (you can get a Range Rover for around $140,000 now) and, more important, Bentley had access to the world of parts and platforms of the VW Group. Why make only one kind of large SUV, the thinking goes, when you could make four or five of them? The platform on which the new Bentley will be built will be shared by Porsche's next Cayenne, Audi's next Q7, Volkswagen's next Touareg, and maybe even Lamborghini's proposed Urus. Those kinds of economies of scale can only be realized by being part of a larger automaker.
Even the engines can be shared (though modified to one degree or another by each brand to fit in with their identities). No doubt the Bentley (so far called the "Falcon," but that's not a confirmed name) will feature a 12-cylinder engine, as all Bentleys do, but presumably the 4-liter twin-turbocharged V8 (which is also used by Audi) will also be available. Also rumored is a plug-in hybrid option, likely a six-cylinder and shared by Audi, Porsche et al.
Expect a price north of $200,000 and a waiting list before the first car hits dealers. There are a lot of people currently slumming it in $140,000 Range Rovers who would surely like to trade up.
Before it's here, it's on the Bloomberg Terminal.
LEARN MORE