Thank Congress for Ryan Braun's Steroid Suspension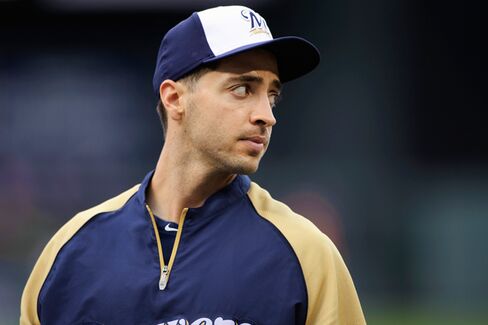 It can be hard to recall that, not too long ago, Congress and Washington routinely accomplished useful, bipartisan things in the public interest. Yesterday, Major League Baseball suspended Milwaukee Brewers slugger Ryan Braun for the remainder of the season for using steroids. And although few people will draw this connection, Braun's suspension and the dozens more that may soon be coming (*cough*A-Rod*cough*) have their roots in actions that Congress took eight years ago.
In 2005, when Jose Canseco's book Juiced described a culture of rampant steroid abuse in professional baseball, the league's response was the opposite of the vigilance it has shown pursuing players, like Braun, rumored to be connected to the Biogenesis "antiaging" clinic that was allegedly supplying them with performance-enhancing drugs. "The commissioner isn't looking backward; he's looking forward," Sandy Alderson, the chief assistant to baseball commissioner Bud Selig, said of Canseco's book. "I'd be surprised if there's any significant follow-up."
That didn't sit well with Representative Tom Davis, the Virginia Republican who then chaired the House Government Reform Committee. Davis decided to hold a hearing to investigate what Major League Baseball would not. The league was so virulently opposed to this that it hired a former House counsel to argue that the committee lacked jurisdiction and refused to provide a copy of its steroid policy—Davis had to subpoena it.
Davis's hearing became famous when former Oakland A's star Mark McGwire self-immolated and baseball's steroid problem became impossible to ignore. (Most people forget that Congress was drawn to the issue because it was actually a public-health problem that affected children—punishing cheaters was incidental.) But MLB still wouldn't change its policy. It took the threat of legislation from Davis and Representative Henry Waxman (D-Calif.) in the House, and John McCain (R-Ariz.) in the Senate, to get baseball officials to act (and only because their exemption from antitrust laws was threatened). And even then, they did so kicking and screaming.
It wasn't until two years later, after Barry Bonds was indicted and the Mitchell Report exposed the scope of the league's steroid problem, that MLB adjusted its attitude.
Say this for Bud Selig & Co.: They recognized the error of their ways and fixed the problem. Ryan Braun can testify to that. And say this for Tom Davis and the 2005-era Congress: Their investigation fixed a real problem—not just cheating in baseball, but the incidence of steroid abuse among kids, which has fallen more than 50 percent since the hearing. All of which makes it even more frustrating that Davis's successor as Republican chairman of what is now the House Oversight and Government Reform Committee spends most of his time accomplishing nothing.
Before it's here, it's on the Bloomberg Terminal.
LEARN MORE