American Brands' Lame Pursuit of a Royal Moment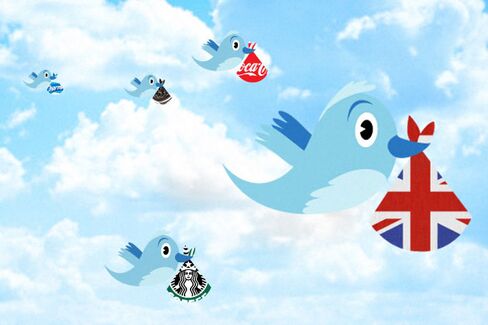 With all the paparazzi hovering over Kate Middleton's belly yesterday (literally, in the case of the Sky News helicopter) and U.S. newspapers making it a front-page event, it's easy to miss the general indifference of most Americans. Even the burst of #RoyalBaby enthusiasm on Twitter paled next to the buzz generated by President Obama's reelection and the elevation of Pope Francis (peaking at 25,300 tweets per minute for the new prince, vs. 132,000 tweets per minute for the new pope and 237,000 per minute for Obama's victory).
That says less about our love of monarchy—never America's strength—than our love of drama. Delivering a baby is pretty boring stuff: no designer dresses to critique, no parade of celebrities, no play by play. It's especially boring when the parents are quiet, publicity-shy people who treat royalty as a civil-service job. Not for them the Kanye-and-Kim antics that spawn a North West or the rock royalty braggadocio behind a Blue Ivy Carter. Instead, the future king gets hands-on parents who want to give their son a normal life.
So is it any wonder that Americans greeted the royal baby with a rash of well-honed puns and cute product promotions online? Pampers proclaimed that "every baby is a little prince or princess." Coca-Cola had its matching "Wills and Kate" bottles at the ready, as well as a crown-adorned Diet Coke. Delta Air Lines put a plane mobile in his crib while Starbucks put paper crowns on coffee cups. Hostess even wrapped its Twinkie in a blanket to celebrate its rebirth, and Oreo posted an image of a "royal bottle" with a cookie:
Oreo's marketers, like their corporate peers, do focus on social-media timeliness. The brand's viral "Dunk in the Dark" campaign during the Super Bowl blackout, developed with digital ad agency 360i was retweeted 14,800 times and liked by more than 20,000 people on Facebook by the next day. So far, interest in the royal bottle has been far smaller: 752 retweets and about half as much attention on Facebook.
But the social-media crown goes go to Charmin for tweeting an image of its toilet paper with a golden potty and scepter while proclaiming, "Get the throne ready." Corny? Yes. But much needed on a day where the only funny hat to mock sat atop the head of royal crier Tony Appleton. He formally announced the baby's birth long after the rest of us had learned about it on Twitter at 8:35 p.m. London time. Even there, it carried an air of anticlimax, coming more than four hours after Kate had actually given birth (and no girl to shake up the monarchy).
Turns out Americans were OK with that. After all, only a quarter of the country admitted to following news of the royal pregnancy, according to a recent Pew Research Center study. For many, the royal birth announcement was simply their cue to unleash the jokes (i.e. the Royal Heir is falling out), grumpy cat images, photoshopped baby pics, and sharp digs at everything from Justin Bieber to the city of Detroit. When the goal is to get your name out there, maybe just knowing a royal baby has arrived is enough.
Before it's here, it's on the Bloomberg Terminal.
LEARN MORE