Netflix Originals Deliver Modest Subscriber Bump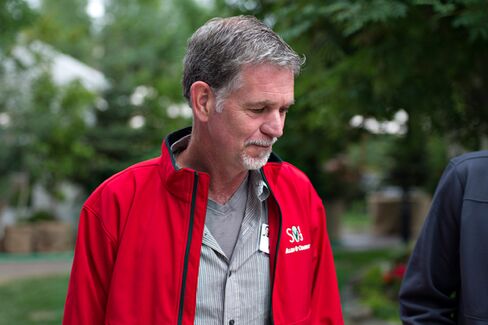 Netflix did not use the most flattering terms to describe Arrested Development's impact on its second-quarter results. The show delivered "a small but noticeable bump" to Netflix's membership totals, according to a shareholder note from Chief Executive Officer Reed Hastings delivered on Monday. This puts Arrested Development in the same class as a lazy mosquito.
No matter. Hastings sounded more than content with the performance of the rest of the company's TV shows and movies. In the second quarter, Netflix's U.S. subscriber count jumped to 29.81 million from 23.94 million in the same period last year, and its overseas audience grew to 7.75 million from 3.62 million. Sales rose 20 percent, to $1.07 billion from $889.2 million, and Netflix reported an almost fivefold rise in net income, to $29.5 million. Analysts surveyed by Bloomberg had been looking for video-streaming service to finish the quarter with 29.9 million users. This perhaps explains the disappointment on Wall Street, which sent Netflix shares down about 6 percent in after-hours trading, to $245.50 per share.
Arrested Development seems to have fallen flat. The first few episodes of the latest season were not side-splittingly funny and required a lot of effort even among faithful fans to keep track of all the goings on among the characters. The laughs picked up later in the season. Still: ho-hum. The same cannot be said, though, for House of Cards and, more recently, Orange Is the New Black, which have generated their own followings and critical acclaim, as evidenced by Netflix's impressive Emmy-nomination haul and rave reviews.
The thrust of all this is that it's still early days to begin figuring out what role the Netflix Originals will play in keeping people as subscribers and drawing in fresh blood. As discussed in our cover story earlier this year, Netflix has a flood of series coming, including a new Ricky Gervais show and some animated series. It's moving faster and on a bigger, more dramatic note than any of its online rivals.
Ever one to push the boundaries, Netflix decided to hold a live online video call on Monday to go over the earnings instead of doing the usual super dry teleconference with Wall Street analysts. The company conducted the video conference on YouTube with Hastings, Ted Sarandos (Netflix's content chief), and Chief Financial Officer David Wells. Investors and analysts were encouraged to e-mail questions to a pair of moderators, who also appeared on the video. "We have always admired the fireside chat format at investors conferences," Hastings said, and so the company thought it would try and replicate the format online.
The executives were on their laptop webcams and were not—let's be honest—shown in the most attractive light, as tends to happen with a below-the-chin shot. That said, the experiment was interesting. The moderators did their best to be firm with the executives and avoided the usual "great quarter, guys" pandering that the Wall Street analysts like to dish out. The conversation flowed pretty well, and Hastings, as usual, gave thoughtful, direct answers. Sarandos, with an Emmy award for engineering behind him, urged investors to give the Originals some time.
It took Seinfeld and The Sopranos a couple of seasons to build up their audiences and become smash hits. Hastings echoed these sentiments, saying Netflix is just at the start of a long-term experiment, which—the company announced today—will include original documentaries and comedy series. "We are fundamentally in the membership happiness business," Hastings said, adding that Netflix may one day consider things like sports programming if that's what its customers really want. He did not address the issue of when Netflix would supply its members with lifetime supplies of ice cream.
Before it's here, it's on the Bloomberg Terminal.
LEARN MORE