Trian's Take: Pepsi Should Quit the Drinks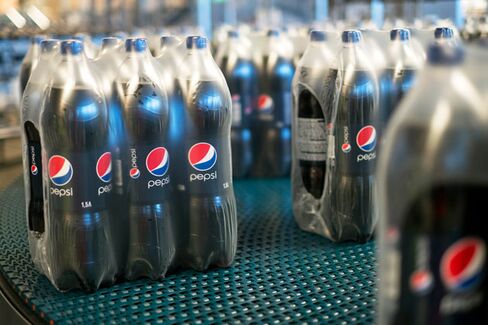 Trian Fund Management has built a long and intricate argument as to why PepsiCo should separate its beverages business from its snack empire and merge with Mondelez International. How long? It runs to 59 pages (PDF) full of performance metrics and valuations. Name a Wall Street acronym and it's in there: CAGR, IRR, EBIT margins, adjusted EPS, and so forth.
The crux of the argument from the activist investment fund and its leader, Nelson Peltz, can be boiled down to two words: Coke won.
The decades-long fight to dominate the soft drink market has been fierce—and more important, expensive—Trian contends. The fund says it weighs on the value of Pepsi's snacks, a fast-growing category that includes Frito-Lay's chip empire and Quaker, a brand that stretches from cereals such as Cap'n Crunch to couscous.
Pepsi is "destined to be viewed as #2 to Coke," an early slide reads. Trian, which owns less than 1 percent of Pepsi, estimates the company's EBIT margin on beverages is 12 percent, well below Coke's roughly 27 percent. Chips, cereal, and other munchies are the only reason Pepsi's overall margin is a relatively fat 18 percent.
A separate drinks business would do just fine, Trian said, while a separate snacks business would surge on public markets.
Plus, the rush to catch Coke—at this point a foundation of Pepsi culture—is clouding executive vision, Trian argues. It criticizes Pepsi for investing in low-margin bottling operations. It also said Pepsi overpaid in two big beverage buys: its $3.8 billion purchase in 2010 of Wimm-Bill-Dann, a Moscow-based dairy and juice giant, and its $1.8 billion purchase of Lebedyansky, a second Russian juice-maker, two years earlier.
Meanwhile, Coke, which doesn't make snacks, has "100% focus," according to Trian, and is using its size and scale to increasingly pull ahead—particularly outside the U.S. Trian also suggests that Pepsi is losing its best managers to its cola rival.
What's more, the soda market is fading fast for both companies. Soft drink volumes in the U.S. fell by 1.2 percent last year, according to Beverage Digest. In the recent quarter, 4 percent of Coke's North American soft-drink sales dried up. Trian argues that more advertising and "disruptive" soft drinks aren't going to keep customers from quitting sugary drinks.
Pepsi, however, isn't very interested in Trian's plan. "Our belief is that we do not need any transformational M&A to accomplish our goals," Chief Executive Officer Indra Nooyi said when asked about Mondelez at a recent conference. "And we are very happy with the PepsiCo portfolio and that's how it's going to be."
Before it's here, it's on the Bloomberg Terminal.
LEARN MORE