SeaWorld Fights Back at the Critical Documentary 'Blackfish'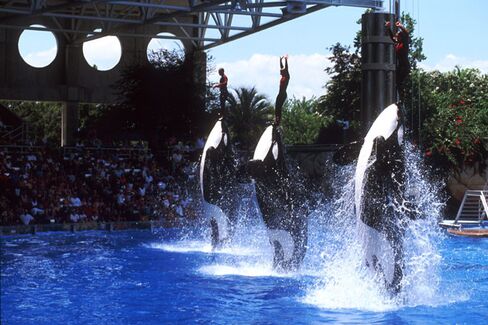 When SeaWorld Entertainment emerged as one of the stars of this year's Sundance Film Festival, it wasn't the role that the theme park, home of the loveable acrobat orca Shamu, had hoped for. Director Gabriela Cowperthwaite's powerful Blackfish, which opens today in select markets, focuses on the brutal 2010 killing of veteran trainer Dawn Brancheau by one of the park's whales. Cowperthwaite gained access to a trove of film footage of incidents at the park and conducted several emotional interviews with former SeaWorld trainers, some of whom knew Brancheau and had worked with Tilikum, the 32-year-old killer whale responsible for her death and those of two other individuals. Spoiler alert: SeaWorld isn't the hero.
Among other things, Blackfish suggests that the company has spread misinformation about orca-related incidents, including Brancheau's death. Last year the Occupational Safety and Health Administration (OSHA) cited SeaWorld for two violations related to the untimely episode. The film also makes a broader, impassioned plea against orca captivity, voicing concerns that separating such intelligent and socially complex mammals from their families—and forcing them to perform tricks in exchange for food—constitutes slavery. "I thought I was making a completely different movie about human beings and their animals," says Cowperthwaite, who says she wasn't an activist but "an ordinary mother who used to take her kids to SeaWorld" at the time she decided to make the film. "After two years, having learned what I've learned," she says, "I now feel that killer whale captivity needs to come to an end."
SeaWorld, a $2.5 billion company owned by the private equity company Blackstone, has been wary of the film from the beginning. "I'm pretty sure their legal team was at our Sundance premiere," says Cowperthwaite, who notes that at their first public screening, she and the trainers featured in the film were peppered with questions from two unidentified individuals about what nondisclosure agreements they'd violated. (Their answer: none.) At the time, SeaWorld tried to dismiss the film, issuing a statement saying that Blackfish "appears to repeat the same unfounded allegations made many times over the last several years by animal-rights activists." In February, though, the company revised the investor prospectus ahead of its April IPO, inserting language that referred to the OSHA case, as well as the "significant media attention" surrounding Brancheau's death, including " a documentary film," as risk factors. "I think they had to do that at the prodding of the SEC, as due diligence to their investors," says David Kirby, the author of the 2011 book Death at SeaWorld, which was also cited in SeaWorld's filing.
Big corporations and documentary filmmakers, of course, have a long and tenuous history—and there appears to be no precedent or playbook for how corporations respond to their camera-toting nemeses. Roger Smith, then-chief executive of General Motors, chose simply to ignore attacks from Michael Moore's seminal 1988 documentary Roger & Me. In 2006, Wal-Mart Stores decided to set up a "war room" of PR experts and political operatives to fight back, note for note, against Wal-Mart: The High Cost of Low Price. And in 2004, McDonald's seemed to acquiesce to negative press when it discontinued the "super size" option from its menus after the release of Morgan Spurlock's Super Size Me (though the company denied that its decision was related to the film). "Generally speaking, you want to match the crisis response to where the crisis lies," says Michael Gordon, the head of Group Gordon, a corporate and crisis firm in New York. "For example, if something only exists in social media, you want to respond in social media. If it only exists in one media market, then you only want to respond in that media market."
As Blackfish is set to open today, SeaWorld has officially gone on the offensive. Last weekend, the company sent an e-mail to about 50 film critics, with the subject line, "A dishonest movie," in which it made numerous point-by-point refutations of many of Blackfish's allegations. Representatives for the film immediately replied in detail, challenging SeaWorld's own representations. It should be noted that the response went out specifically to film critics, the only ones, aside from small festival audiences, to have seen the film. (Gordon observes: "If it's something that can become a massive issue, or they anticipate that it will, then they should handle it proactively, regardless of where the crisis sits.") SeaWorld is reportedly considering additional steps, including informational advertising.
SeaWorld finds itself in a classic catch-22: If it choose to combat Blackfish more publicly, it risks creating more awareness of the movie. Yet if it chooses to ignore it, it risks allowing the film's charges to go unanswered. Indeed, the company may have already done so. In an interview with the New York Times, Eamonn Bowles, president of the Blackfish distributor Magnolia Pictures, called SeaWorld's recent response to the film "the gift that keeps on giving."
"I know that internally SeaWorld senior management feels they don't need to change anything and really aren't expecting people to see the film," says John Hargrove, a former senior trainer at the park who is interviewed in Blackfish. He also notes that management has attempted to explain away his and other ex-trainers' participation in the film as mere "spotlight-seeking." But "it's probably not useful to SeaWorld to think they should ignore [the film] and that it will go away," warns Gordon, "especially if they feel they have a case to make." Meanwhile, Magnolia has been mounting an aggressive marketing campaign, and ABC's Nightline has already done a report on the film. Additionally, co-distributor CNN Films will be airing the documentary later this year. Unfortunately for SeaWorld, Blackfish doesn't look like it will be going away soon.
Before it's here, it's on the Bloomberg Terminal.
LEARN MORE