Making the Case for a Barnes & Noble Split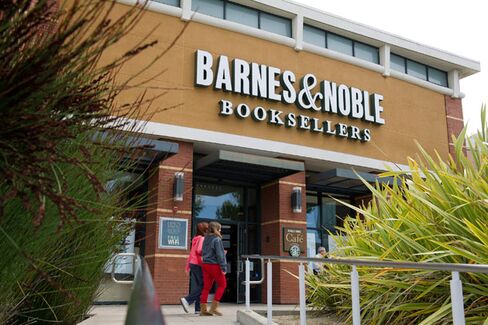 Could a breakup of moribund bookseller Barnes & Noble increase its value by more than 44 percent? That's what Wall Street seems to think. Bloomberg's Chelsey Dulaney has run the numbers.
The idea of a breakup is pegged to the departure this month of the chain's chief executive, William Lynch, and the selection of a spinoff artist formerly with Cablevision as his replacement. Last month, moreover, the company decided to stop competing in the tablet business.
For all its operating and industry woes, Barnes & Noble still has valuable assets and sale options. For starters, Leonard Riggio, the company's chairman and top shareholder, says he wants to buy the stores outright. Microsoft is invested in its Nook digital business—a critical counterweight to Apple and Amazon—and Google could be interested. Pearson and Liberty Media also own chunks of the company.
According to the average of four analysts' estimates compiled by Bloomberg, Barnes & Noble's three businesses—the retail chain, college bookstores, and Nook digital division—should be valued at a combined $25.86 a share, compared with yesterday's close of $17.97.
In February, Riggio said he planned to put together a primarily cash offer to buy Barnes & Noble's 675 stores and website. Albert Saporta of Makor Capital says Barnes & Noble would be best off taking its retail division private and selling off its Nook business, which posted an operating loss of $200 million for the quarter that ended in January (vs. earnings of $177 million and $22 million at the retail and college units, respectively).
Maxim Group's John Tinker, who has a $30 target on the stock, thinks Microsoft could consolidate control of Nook. "They've obviously been experimenting with this type of retail strategy," he said of Microsoft, "and they need to figure out if they're going to copy Apple properly or not." Pearson, the academic publisher that is also invested in Barnes & Noble, should be looking at its college bookstores and digital textbooks business: "You've got these college bookstores that could be very valuable as a conduit into universities," Tinker said.
Janney Montgomery Scott's David Strasser, meanwhile, told Bloomberg he could see Google being interested in Nook Media.
A share price that's 62 percent off its all-time high. Cutthroat competition from Amazon and Apple. An aborted tablet strategy. Barnes & Noble may still have options, but they're dwindling.
Before it's here, it's on the Bloomberg Terminal.
LEARN MORE