LVMH China Watch Sales Decline Offset by Overseas Buying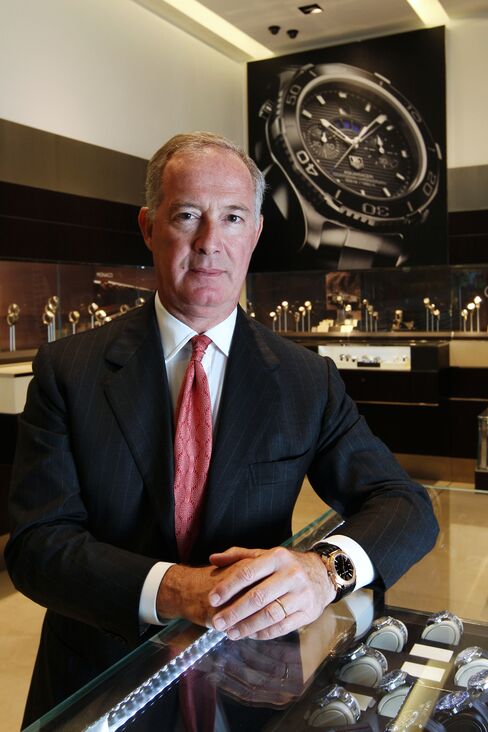 LVMH Moet Hennessy Louis Vuitton SA, the world's largest luxury-goods maker, says its sales of jewelry and watches have dropped in mainland China and are being offset by Chinese nationals buying overseas.
Sales to Chinese consumers are performing "fairly well" as shoppers increasingly travel to Hong Kong, Taiwan, Macau and Dubai, as well as to traditional European destinations such as Rome, Milan and Paris, Francesco Trapani, president of its watch and jewelry division, said in a July 17 interview.
"Sales to Chinese continue to be good, although it's true things are changing a bit," he said in Kuala Lumpur. "Sales are down but they are more than compensated by sales to Chinese outside" the country, he said, without specifying the period for the decline.
Swiss watch exports to China fell 19 percent in May, according to the Federation of the Swiss Watch Industry. Sales have declined as economic growth has weakened and as the Chinese government's austerity campaign has curbed demand for high-end products popular for business gifts.
"The watch sector overall has been declining in China this year due to the economic slowdown and also off the back of the anti-corruption measures," Aaron Fischer, an analyst at CLSA Ltd. in Hong Kong, said by phone today.
Southeast Asia
China's economy grew 7.5 percent in the second quarter from a year earlier, slowing for a second straight period. Luxury companies from Prada SpA to Burberry Group Plc have been seeking to tap consumers in emerging Asia, who are purchasing more high-end bags, shoes, suits and jewelry as incomes have risen.
Sales of watches and jewelry accounted for 10 percent of the LVMH group's revenue last year, according to data compiled by Bloomberg.
LVMH fell as much as 1 percent and dropped 0.8 percent at 132.90 euros at 11:31 a.m. in Paris trading. The French benchmark CAC 40 Index was down 0.4 percent. The stock has declined about 4 percent this year.
The owner of the Bulgari and Tag Heuer brands is seeing rising demand in the Southeast Asia region even as sales have recently been "a bit soft" in Singapore, Trapani said.
Growth in luxury-goods spending will be sustained this year as booming demand in Southeast Asia offsets a slowdown in China and Europe, Bain & Co. said in a report on May 16.
"Malaysia, Indonesia, Vietnam are progressing well," Trapani said. "It's not a boom, but certainly these are countries that are growing and becoming more important and more interesting than they used to be with us."
Acquisition Targets
Singapore's dollar has appreciated against the currencies of its four major Southeast Asian counterparts over the past three months, according to data compiled by Bloomberg. The currency strength has hurt tourist and consumer spending in the island city and led to slower sales at LVMH's stores, Trapani said.
Trapani, 56, a member of the Bulgari family who joined LVMH as part of the company's 2011 acquisition of the Italian jeweler, said LVMH will focus on growing existing brands while keeping a lookout for potential targets.
"Priority number one is to focus on the brands that we own," Trapani said. "If something really unique, beautiful, powerful is available, then we act."
LVMH is not keen on acquiring Tiffany & Co., he said. The world's second-largest luxury jewelry retailer based in New York was speculated by some analysts to be a potential takeover target.
While it is a "very nice company," he said, "I don't think we have any interest in Tiffany."
First-half Earnings
About 28 percent of revenue at Paris-based LVMH came from Asia excluding Japan last year, more than anywhere else in the world, according to data compiled by Bloomberg. The U.S. was its second-largest market, contributing 23 percent, the data show.
The maker of Louis Vuitton handbags and Moet & Chandon champagnes will report its first-half earnings on July 25.
LVMH this month said it will buy 80 percent of Italian cashmere clothier Loro Piana SpA for 2 billion euros ($2.6 billion), its biggest acquisition since the 2011 purchase of Bulgari SpA. Including the latest deal, the most acquisitive luxury company has spent more than $10 billion across 27 transactions since the start of 2010, according to Bloomberg Industries.
Before it's here, it's on the Bloomberg Terminal.
LEARN MORE