Old TV Hits on Netflix, Hulu Live Long and Prosper Over New Shows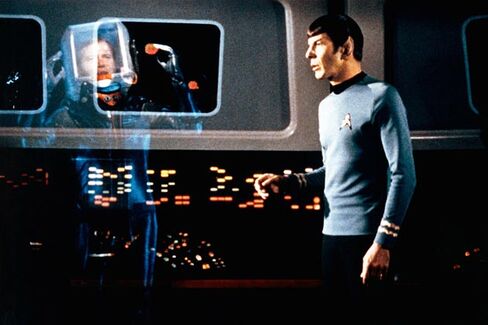 Netflix made history Thursday as the first company outside the broadcast and cable TV worlds to get Emmy nominations, with the company in the running for 14 awards for its original productions, such as House of Cards. Viewers, however, seem to prefer old reruns of The X-Files, according to a new survey that examined viewing habits for streaming-video services, including rivals Hulu Plus and Amazon Prime.
While contemporary hits like Mad Men and Breaking Bad were watched often, old episodes of Star Trek were the most popular programming, accounting for 4 percent of all viewing, according to GfK, the research firm behind the report. A number of older shows broke the top 10, including The X-Files, which last aired in 2002, the original Arrested Development, which ran from 2003 through 2006, and Heroes, an NBC drama cancelled in early 2010. "We all knew these services appealed to the long tail, but that tail is even thinner and longer than I expected," says David Tice, a senior vice president at GfK.
Releases from the past two years or so fared slightly better in movie picks, but only two films—The Hunger Games and Mission: Impossible–Ghost Protocol—grabbed more than 1 percent of the audience. Based on viewership, Braveheart, featuring a circa-1995 kilt-clad Mel Gibson, was arguably as valuable as Thor, a 2011 superhero film soaked in special effects.
The study has some weak points. For one, it relies on weekly viewing "diaries" of only about 500 people who subscribed to Netflix, Hulu Plus, or Amazon Prime. Shows that participants forgot about aren't represented. And the surveys didn't capture the critical days when Netflix released its in-house hits, House of Cards and Arrested Development, to a hungry group of binge viewers. Still, the report may be a valuable negotiating tool for studios and media companies selling pieces of their programming vault. At the moment, streaming services have kept their viewing data pretty much under wraps. That kind of information asymmetry has likely been a major asset to companies like Netflix building caches of content.
Tice says producers, in particular, may command a greater premium for old shows that had a bit of a cult following or a format that didn't work well in a weekly TV format. Anyone who tuned into Lost a few seasons in, for example, would see the value in an online catalogue of shows.
So does the report prove original programming is a mistake for Netflix and its streaming competition? Not necessarily. BTIG analyst Richard Greenfield calls the original content a "natural evolution" for Netflix, a way to "steady its user base." Traffic for original shows matter, but so too does their so-called halo effect—the number of subscribers they pull onto the platform. People who signed up to stream House of Cards may eventually binge on Star Trek episodes. Indeed, investors will be watching Netflix earnings closely on Monday for evidence of whether its Arrested Development relaunch boosted business in May. From that perspective, House of Cards, a political thriller that cost an estimated $100 million, according to Deadline.com, is as much advertisement as it is investment.
In a statement, Netflix Chief Content Officer Ted Sarandos said today's Emmy nominations show "that great television is great television, regardless of where, when, and how it is enjoyed." Fittingly, the shows Sarandos is celebrating have just started down a long tail of their own. Netfix started selling House of Cards on DVD last month, and people can buy it on Amazon.com.
Before it's here, it's on the Bloomberg Terminal.
LEARN MORE