A Poisoned School Lunch and India's Intractable Food Troubles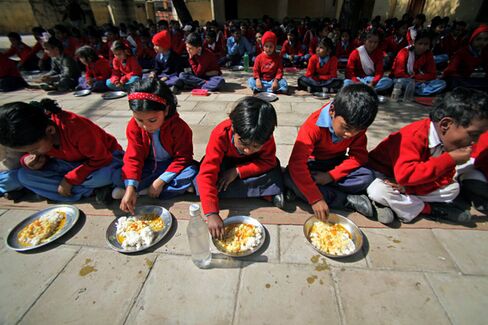 The menu was the usual: rice, lentils, soybeans and potatoes. But the free lunch children at a school in the Indian state of Bihar also may have contained a deadly chemical used in pesticides, and now 22 students are dead. The children were victims of a government program called the Mid-Day Meal Scheme designed to provide some relief to the country's poorest families. Millions of people in Bihar and throughout India depend on free, government-provided lunches for their children.
The tragedy points to one of the contradictions of modern India. The abundance of smart engineering talent has attracted U.S. multinationals, such as General Electric and Microsoft, as well as such emerging powers as China's Huawei Technologies to Indian tech hubs Bangalore and Hyderabad. The country has a collection of homegrown, world-class IT companies such as Tata Consultancy Services and Infosys.
But high-tech India remains one of the world's poorest countries. There are more than 300 million poor Indians, including nearly one-third of people living in the countryside. According to the United Nations World Food Program, about 42 percent of Indian children under the age of 5 suffer from malnutrition. "The distribution system is rife with corruption and inefficiency, and some analysts estimate that 40 percent of the subsidized food never reaches the intended recipients," the WFP wrote in a report published last year.
The Bihar deaths come at a time when the struggling government of Prime Minister Manmohan Singh had been trying to show Indian voters it could address the country's chronic inability to feed its own people. With elections due by May next year, the government on July 3 approved the National Food Security Bill (NFSB) that calls on India to spend 1.25 trillion rupees (about $21 billion) a year to provide low-cost grains to about two-thirds of the population.
The NFSB "has global significance," according to Olivier De Schutter, the UN Special Rapporteur on the Right to Food. The new law "can inspire many countries to do the right thing," he told reporters, and "will protect as a legal right what otherwise are benefits given away as charity by the government. … There is no better investment for the country than to invest in its children."
Still, not everyone is a fan of India's new food-security law, which will provide individuals with five kilograms of subsidized grains each month. The track record of Indian's government doesn't inspire confidence in its ability to meet such challenges. While the legislation "will be the world's largest social protection against hunger," according to a report earlier this month by CLSA economist Rajeev Malik, it will also make the government's discretionary spending more inflexible, shrink room for countercyclical measures, and add to inflationary pressures. Calling the new law "half-baked," Malik said the government will be hard pressed to implement the food program's huge size. "Few in India are opposed to helping the poor but NFSB is hardly the appropriate answer to India's problems with hunger and malnutrition," he wrote.
India had been enjoying some much-needed good news regarding food production. Since the country lacks widespread irrigation systems, more than half of all farmers depend largely on rainfall during a short rainy season to provide water for their crops. Luckily, the 2013 monsoon got off to its best start in at least a dozen years. Monsoon rains, which account for 70 percent of all rainfall in the country, were 18 percent above average for the period between June 1 and July 14. Farmers are planting more rice, oilseeds, and cotton, according to a statement by the Agriculture Ministry on July 5, and the amount of land under cultivation has doubled to 40.2 million hectares. Farm output in India will grow 3.7 percent this year, Morgan Stanley forecasts, up from 1.9 percent in the year ended March 2013.
Before it's here, it's on the Bloomberg Terminal.
LEARN MORE