The Ex-U.S. Ambassador Selling NFL Gear in China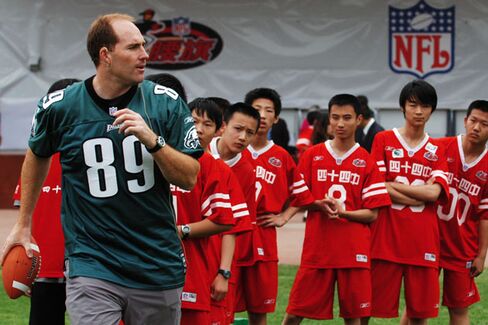 The allure of selling to roughly one-fifth of the world's population has prompted plenty of American entrepreneurs to try their luck in China. Among them is Frank Lavin, an ex-U.S. ambassador and former Commerce Department official whose business guide on conquering overseas markets earned a positive review from his friend Karl Rove. Lavin's business, Export Now, cuts through language barriers and red tape to help fellow Americans (and anyone else willing to pay him) to sell consumer goods to Chinese shoppers.
Since launching Export Now in 2010, Lavin's team has handled customs clearance, trademark registration, order fulfillment, and other back-end tasks for more than 100 consumer brands, from Mack's earplugs, to Totes umbrellas, to Tabasco sauce. Everything Export Now handles is sold through Alibaba Group's massive Chinese e-commerce sites Taobao and Tmall. (This Bloomberg Businessweek story from last year has more on how Export Now works.)
Now Lavin is hoping an exclusive deal with the National Football League to sell its official apparel and equipment will put his 30-person firm, headquartered in Akron, Ohio, on the radar of more would-be sellers. Announced today, the agreement means Export Now will be handling the logistical headaches of getting NFL apparel and equipment from merchandise providers such as New Era, Nike, and Wilson and ready for buyers in China to snap up online. Lavin says the new store will go live in September.
Just how popular is NFL merchandise in China these days? A Grantland article from May by Hua Hsu suggests the appetite for American football is significant, a product of "both the NFL's increasingly sophisticated understanding of international marketing as well as a growing network of tireless, infectiously fanatical locals and American expatriates." Hsu notes millions of Chinese are going online to watch games.
For Lavin's part, his experiment selling footballs for the NFL indicates there's demand. Chinese shoppers snapped up his first batch of 72 footballs in three hours in September, and he says he sells 100 to 200 footballs a month now. Prices for the NFL gear "shouldn't be radically different from U.S. prices," he says, noting Export Now first has to "get the logistics part done before we can pencil that out." A cap sells for the equivalent of about $16.
Lavin's philosophy about piracy elicits a sports metaphor: "The best defense is a good offense. If you're not in the market with your jersey, then 100 percent of what's being sold is pirated. At least now those people who want the official product and the authentic product can go to the official site and get it."
He explains Export Now works with the NFL to ensure that trademarks are registered and that the business has a "takedown" system in place to remove goods that aren't authentic from his partner sites. "We won't be able to go around the whole country to police every street corner," he says, "but we can police e-commerce pretty effectively."
Before it's here, it's on the Bloomberg Terminal.
LEARN MORE