Yahoo Inches Forward After Year One of Marissa Mayer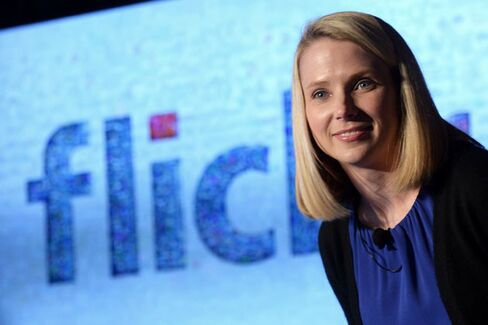 There's even more interest than usual in the perennially embattled Yahoo!'s second-quarter earnings, released just a half-day ahead of the one-year mark since former Google executive Marissa Mayer took over as chief executive officer of the pioneering Web portal.
Mayer, as Yahoo's fifth boss in four years, has proven herself a steady steward so far. Shares are up more than 70 percent during her tenure, buoyed for the most part by an ongoing stock buyback and by the rising value of the company's 23 percent stake in Chinese powerhouse Alibaba Group, which could stage an IPO this year. Still, as Bloomberg News notes in its one-year-later assessment, advertisers remain unsold on the Yahoo turnaround and analysts are nervous about Mayer's acquisition spree of 17 startups, including the pricey $1.1 billion purchase of blog network Tumblr.
Other outlets have weighed in today with similar report cards that emphasize less what Mayer has accomplished than what she has yet to prove. Of particular concern is the lack of growth in Yahoo's core advertising business. Research firm EMarketer predicts that Yahoo's share of global digital ad spending is set to decline from 3.37 percent to 3.1 percent this year, with rivals Google and Facebook eating into Yahoo's primary domain of display ads.
Today's tepid earnings report raises more of the same questions. The company reported revenue (minus traffic-acquisition costs) of $1.07 billion, slightly missing analyst estimates of $1.08 billion and coming in at the low end of its own guidance. That amounts to a decline of 1 percent from the same quarter last year–not the arrow any company wants to put up on the board.
Digging a little deeper into the revenue numbers only emphasizes that challenges abound: The $423 million from display ads is off 11 percent from a year earlier, while the $418 million from search fell 9 percent from the same quarter last year. Yahoo stock slipped 0.7 percent in after-hours trading, after a runup in recent weeks.
Mayer put a positive spin on the numbers in a conference call with analysts. In an unusual move, the call was also made available as a live webcast that featured Mayer sitting alongside Chief Financial Officer Ken Goldman at a desk—as if they were television newscasters. Mayer called the quarter "one of the most productive in the history of Yahoo. We basically reached a phase of releasing a new product every week." Among the dozens of new products were mobile apps for Yahoo's Mail, Weather, Sports, News, and Flickr properties. Mayer said the company now had hundreds of engineers working solely on mobile, up from only dozens when she joined.
Mayer also said she was on the second part of her turnaround plan, centered around improving products, and she claimed that renewed traffic growth for Yahoo properties after years of decline was "unprecedented." Acknowledging that none of this has increased revenue, Mayer predicted a "chain reaction" that would further increase traffic and spark growth.
Some analysts appear comfortable waiting. Mark Mahaney, an analyst at RBC Capital Markets, called it a "lengthy turnaround process" in an interview with Bloomberg and said that if Mayer is successful, "it will show up in the company's fundamentals two to three years from now."
A wait-and-see approach makes sense for now. Mayer inherited a famously leaky ship, and it's difficult to argue that Yahoo isn't in a better position today than it was a year ago. Job satisfaction among employees is up, according to a recent survey by Glassdoor, and Mayer continues to improve Yahoo's standing as a coveted place to work for engineers. The company is even trying to energize employees by giving away Jawbone Up fitness wristbands and challenging staffers to walk or jog 100 miles in a month, as Businessweek reported earlier today.
Of course, if Mayer doesn't get Yahoo's revenue up soon, she may not be able to outrun her own critics.
Before it's here, it's on the Bloomberg Terminal.
LEARN MORE