Telling Tech Companies to Save Us From Our Love for Porn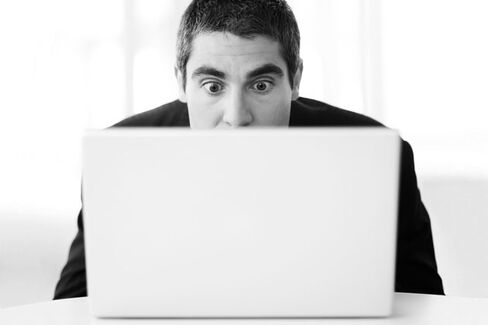 A man sued Apple last month, saying the company should be held responsible for not protecting him from impulses to use his laptop to look at pornography, which is kind of like suing Ford for making the car that you drove to a massage parlor. Furthermore, he argued, Apple should be legally required to block pornographic content on its Web browsers. The concept is enjoyably ridiculous—and would be even more so if its main demand weren't also essentially becoming public policy in Britain.
Chris Sevier, a Nashville resident, bought a MacBook to produce music for his electronic group, Ghost WARS, and maybe browse the Web, according to the lawsuit. He had lived a smut-free existence until he mistyped "facebook.com," and ended up on a social network for swingers that goes by a very similar name. It was full of "images that appealed to his biological sensibilities as a male." Sevier wrote that he developed such an intense interest in pornography that he lost interest in having sex with his wife, and his marriage fell apart.
The lawsuit was picked up by a few technology blogs, and you can see why. People with an appreciation for ridiculous legal documents will find much to like here. Sevier claims that Apple is better positioned than its users to appreciate what a porn-ridden place the Internet is, and he states that all the company's female employees will surely second his respectful demands. For some reason there is repeated discussion of late-night ads for sexual enhancement drugs, as well as a section entitled, ""Apple is hijacking great sex by failing to sell its products in safe mode" and an accompanying YouTube video. Sevier wants Apple to sell products that come with Safari-enabled, pre-installed anti-porn filters. People who are over 18 could ask the company for a password to turn the filters off; minors could not. He is also asking for damages totaling $75,010.
Sevier is hardly the first person to suggest that Internet companies should be responsible for the content accessed through their services. Tech companies periodically face the ire of lawyers and lawmakers looking to cut down on copyright violators, racists, and pornographers. For their part, such companies have generally argued that they are neutral platforms and can't be police officers for the Internet, though they do help under certain circumstances.
Days before Sevier filed his lawsuit, a member of the British Parliament announced that Internet service providers in Britain would put anti-pornography filters in place for all existing and new customers. Internet users would be able to turn the filters off, but only temporarily. "If you turn the filter off at 9 p.m., it turns on again at 7 a.m.," said Claire Perry, who represents an area in Central Wiltshire. The move doesn't require legislation because the companies have decided to provide the filters voluntarily.
Such actions will likely be left to the crazies in the United States. A policy requiring people to opt out of filtering would almost certainly be challenged by free speech advocates here.
"I think that would also be unconstitutional under the First Amendment because the government would be trying to persuade people not to access certain speech, and that's just not the government's job," says Catherine Crump, an attorney with the American Civil Liberties Union.
This isn't to say the U.S. has never done anything along these lines, having floated comparable proposals. The government went through a period of intense concern about children stumbling upon smut in the 1990s, says Crump. The result was a requirement from the federal government that Internet service providers notify customers about content filters. While Apple might have left Sevier vulnerable to his own self-destruction, the man presumably received a notification at some point. It evidently wasn't enough to save him.
Before it's here, it's on the Bloomberg Terminal.
LEARN MORE