Five Questions for Charlie Gasparino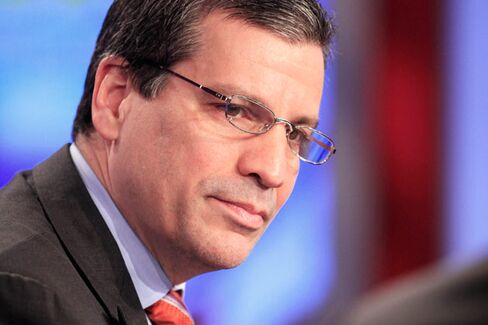 Charlie Gasparino, Fox Business Network's pugilistic Wall Street reporter—known for his passion for cigar-smoking, Italian meatballs ("here's the thing: Don't overseason"), and Twitter wars—just published a new book called Circle of Friends: The Massive Federal Crackdown on Insider Trading—and Why the Markets Always Work Against the Little Guy. In it, he excavates the government's multiyear quest to eradicate illegal trading at hedge funds in general and at one very large hedge fund based in Stamford, Conn., in particular.
You were one of the first reporters to write about SAC Capital founder Steven Cohen, back in the 1990s. How did he end up on your radar?
Former Bear Stearns [Chief Executive] Jimmy Cayne, of all people, told me to go up there—I was covering Wall Street at the Journal, and he said, "Here's one guy you should do a story about that nobody knows about, Steve Cohen at SAC Capital. These guys are huge, and they're everybody's best customer, and they get first dibs on whatever we find out." We didn't allege insider trading in that story, but we did lay the groundwork for what an information machine SAC Capital was.
You clearly feel that the government's time would have been better spent on other things than prosecuting insider trading cases. If you really believe that, why write this book?
Preet [Bharara, U.S. Attorney for the Southern District of New York] asked me the same thing. They did a big investigation; they're taking on major players in the market. It is a news story. There's wiretaps and all that stuff. That, I think, is bookworthy. I think if I didn't point out that we went after this crime rather than the crime that nearly destroyed the financial economy, I wouldn't be doing my job.
Describe your typical day.
If I'm up till, like, 9 p.m. writing, and then I go out for dinner, I might [get up] late. One of the good things about Fox is, I do later hits. But [writing the book] was kind of grueling; they didn't exactly give me time off. I had to perform. So I used to get up early, like 6, 7 a.m. For breakfast, I either do oatmeal with fruit, or I do a protein shake.
Will they charge Cohen in the end?
I can't figure out what they're going to do. They did destroy his business. A lot of people say there's no way they'd make this much noise if they weren't going to do something. Maybe it's a civil case, where they bar him from the industry. Here's the other thing, though: Insider trading isn't the worst thing in the world, it isn't the the best thing in the world. There is no doubt that they used it as a publicity weapon, post-financial crisis, and that is an interesting thing.
You seem rather spirited in your use of Twitter. Can you describe your philosophy?
You know, I don't like it when they get really personal. I never throw the first punch. My wife is trying to get me not to do that any more—not to respond to the jerks. I don't like snarky. I got a little bit of a temper. Barring calling people's mothers out, I think there's a decorum you have to follow. But I'm not a punching bag.
Before it's here, it's on the Bloomberg Terminal.
LEARN MORE