Where to Start Picking Stocks: Pick One Under $10
Ten stocks under ten bucks.
Yes, we figured that would get your attention. Paul Hickey's team at Bespoke Research updates the list at the beginning of each quarter based on three straightforward criteria: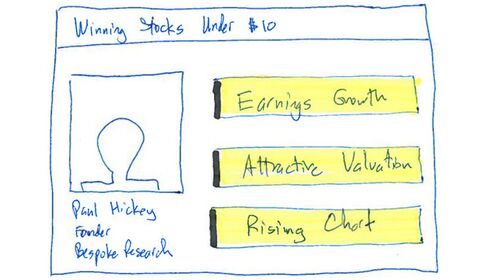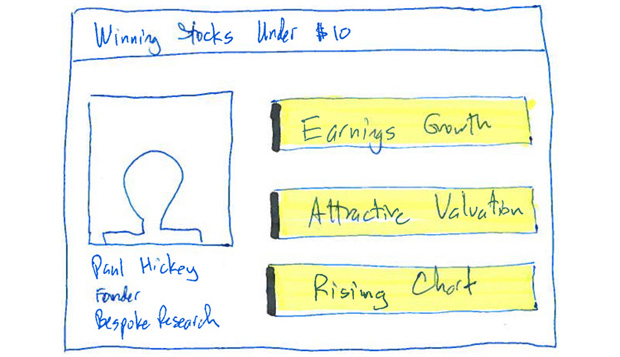 "Ten Under Ten" is catchy, it's also quite profitable. Bespoke's rolling portfolio has beaten the S&P 500 Index handily since its inception.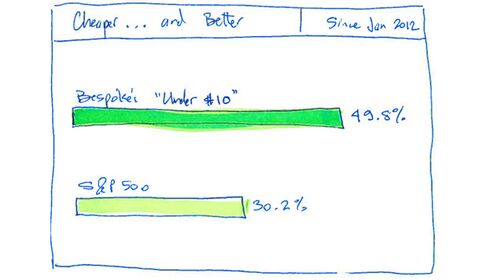 Hickey's picks aren't exactly household names -- single digit stocks rarely are. So we suggest doing your own research before taking the plunge. The companies span all sectors of the economy, underscoring the importance of individual stories and stock picking. This is refreshing, after months of discussing central banks and overseas protests. Here's Hickey's list:
This creative approach got me thinking -- there must be more than just ten noteworthy stocks under $10. So we decided to create our own list and share it exclusively with blog readers. We screened the Russell 3000 for companies trading under $10 with:
--Earnings growth of at least 100 percent
--Stock prices above the 50-day moving average
Pretty simple stuff, and quite a result: 37 stocks up 43 percent in the year to date:
ARC Document Solutions Inc. (ARC), Callidus Software Inc. (CALD), Cross Country Healthcare Inc. (CCRN), Cowen Group Inc. (COWN), Corporate Renaissance Group Liquidating Trust (CREN), Cutera Inc. (CUTR), DiamondRock Hospitality Co. (DRH), DSP Group Inc. (DSPG), Endeavot International Corp. (END), Furmanite Corp. (FRM), Gastar Exploration Ltd. (GST), Hercules Offshore Inc. (HERO), Halcon Resources Corp. (HK), Isle of Capri Casinos Inc. (ISLE), Lattice Semiconductor Corp. (LSCC), Meadowbrook Insurance Group Inc. (MIG), Millenial Media Inc. (MM), Merge Healthcare Inc. (MRGE), Mueller Water Products Inc. (MWA), NewBridge Bancorp (NBBC), Omega Protein Corp. (OME), Orbitz Worldwide Inc. (OWW), Pacer International Inc. (PACR), PGT Inc. (PGTI), PLX Technology Inc. (PLXT), PetroQuest Energy Inc. (PQ), Rambus Inc. (RMBS), Seacoast Banking Corp of Florida (SBCF), Sciclone Pharmaceuticals Inc. (SCLN), Synovus Financial Corp. (SNV), support.com Inc. (SPRT), Scorpio Tankers Inc. (STNG), Star Scientific Inc. (STSI), Vicor Corp. (VICR), Vantage Drilling Co. (VTG), Willbros Group Inc. (WG), Zale Corp. (ZLC).
Happy stock picking.