Steve Ballmer Doesn't Want to Talk About Microsoft's Wearable Computers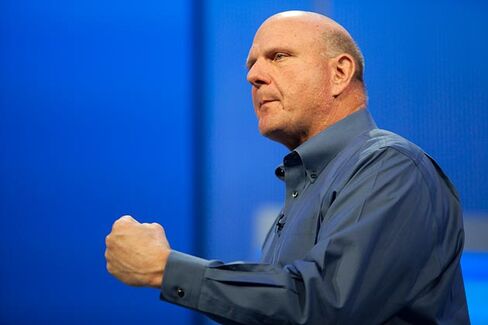 "For me, it sure feels big," says Steve Ballmer, Microsoft's chief executive officer, describing the software maker's reshuffling of its top executives, which took place on Thursday. "We haven't done anything like this in 30 years."
In the reorg, Microsoft abandoned business units centered around such things as server software and online services and moved instead to put its executives in charge of companywide technology and strategy categories. In this arrangement, someone like Windows Phone chief Terry Myerson becomes head of the group responsible for Windows running on phones, PCs, tablets, servers, and the Xbox, and Windows head Julie Larson-Green shifts to oversee Microsoft's entire device and entertainment portfolio.
In an interview after these changes were announced, Ballmer talked to Bloomberg Businessweek about what's going right and what's going wrong at Microsoft and even his continued hopes of owning a basketball team—but not the company's plans for wearable computers.
Given this new structure, how will someone like Myerson, for example, who is driving operating systems, stay in lockstep from a product perspective with Larson-Green, who is leading all your devices?
How do we stay integrated at the top? We meet weekly. You have to agree on what the cadence is on which devices and services.
In your letter to Microsoft's employees, you mentioned that Craig Mundie, a big thinker at the company, will be leading a special project for you. What is it?
I'm not going to tell you.
Is it something like, say, a wearable computer?
No, it's much longer-term than that.
How are your wearable devices coming along?
That is one of those questions I think I won't answer.
You've moved Rick Rashid, the former head of Microsoft's Labs, over to work on operating system technology. Will he be looking way out into the future?
No, he will really help the current operating system development. He's not going to be a line manager, but he's going to be a key architect. This is Rick's field. We're glad to have him. He's anything but ready to retire and had asked, "Where do you want to put me in, coach?"
How satisfied are you with the research group's performance in recent years?
I think we have done some great products, and we seek to do better. I see opportunities to move faster and pursue more high-value activity.
There were an awful lot of leaks about this reorganization. Were you disappointed by that?
I wasn't shocked. You never want any leaks about anything, but we got our job done. You want to take time to really decide how we want to organize and handle critical jobs.
Some of your recent ads against Google and Apple have been quite aggressive. What's your favorite part about the ads?
We have been sharper and clearer in our message and more proactive. We are representing the truth of our products pretty well. Of course, I want us to do better.
Some people see the ads as rather defensive.
I am sure there are people that think a lot of things.
You recently teamed up with Oracle on a cloud computing deal. How about you and Larry Ellison team up so that the two of you can finally get a basketball team?
We are teaming up on everything else. But he would want to put the team somewhere else than where I would put it.
Before it's here, it's on the Bloomberg Terminal.
LEARN MORE