Inside a Job-Training Program That's Just Hellacious Enough to Get Results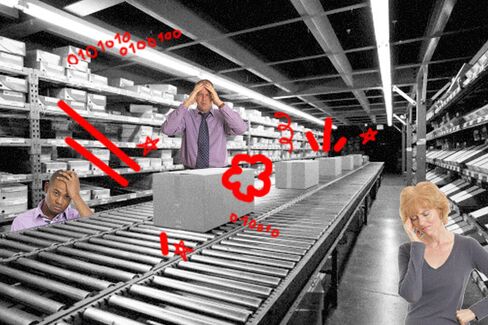 In a conference room in Ann Arbor, Mich., an ex-Marine turned helicopter mechanic introduces himself to the assembled group: "Uh, my name is Tinker Bell."
He hasn't lost his mind. He has been forced to give up his identity as part of a novel worker-training program conceived by Hossein Nivi, an Iranian-born mechanical engineer and 25-year Ford veteran. In his last role at the carmaker, Nivi developed a worker-training simulation in which trainees work at a calamitous, pretend factory and try to accomplish tasks while actors strive to make life horrible. Seven years ago, he set up Pendaran to sell his brand of worker-training to the broader corporate world.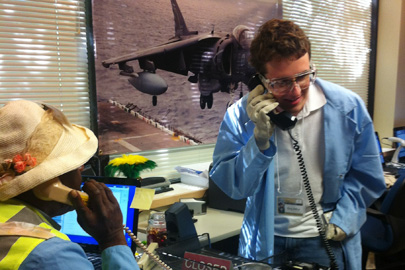 American companies spend more than $125 billion a year on management and training programs, which quite often center around seminars and PowerPoint presentations. The Pendaran method, designed to force participants to rise above chaos and develop problem-solving techniques, is diametrically opposed, a sort of indictment of Six Sigma and other beloved corporate training regimes. "I've just never seen anything like this," says Brian Lasley, an executive at Edw. C. Levy Co., a service provider for steel companies. "It systematically destroys every bad instinct you have."
People attending a Pendaran course show up at an office building where the company has rented out a conference area, a dining area, and a couple of other rooms. During a recent course, about 40 people were divided into two teams and given new names taken from fairy tales and popular culture. "We'll make the biggest guy in the room Smurfette," Nivi says. The idea is to shove people into an altered reality and to make sure that corporals and factory-line supervisors find themselves on equal footing with everyone else.
After starting together in the conference room, one team gets led into the make-believe factory. Yellow tape on the floor designates walls and special areas like the forklift loading zone and the infirmary. On both sides of the room, there are about six workstations with laptops and barcode scanners. On the far wall, there's a poster of a man in a steel plant who is surrounded by molten metal and flying sparks. Punk and acid rock tunes blast through the room to simulate factory noise and unnerve the participants.
The participants are told that they work at a golf cart factory. The laptops have special software designed by Pendaran that breaks the golf cart assembly into different tasks. Some people have to take parts from the forklift and scan them into the system, while others have to use their mouse to drag wheels onto the cart. It all sounds simple enough, but the workers must follow very precise procedures at each step along the way—both on and off the computer. For example, they must don protective goggles and uniforms and request forms for certain operations and remember to ring the bell on the forklift, which is actually a child's toy vacuum, when moving around.
One Pendaran staffer, dubbed The Wizard, sits at a computer control panel in the back of the room. He can derail the cart-making operation at any time by sending a glitch to one of the worker's laptops. At one point, he notices that someone has not followed the right safety procedures, which results in an "oil slick" on the floor. The Wizard walks over to the spot and falls down on the floor and starts screaming. This kicks off a series of events, as the team tries to clean up the oil slick and gets hit with bills for medical procedures. All the while, another character named Mad Max, the tough foreman, hovers, emphasizing the severity of their mistakes. Shift after shift passes and the teams struggle to produce any carts at all.
Both the Wizard and Mad Max will take on different roles. From his control station, the Wizard will sometimes don a canvas hat with an orange flower on the side, affect a female voice, and turn into Alice the Operator. The attendees come up to Alice and ask for forms or to speak to other characters like Houdini. "Ohhh, did you know Houdini is a champion skateboarder?" Alice says. The flowery hat gets replaced with a baseball cap and the voice turns high-pitched as Houdini arrives. The course attendee requests training for a forklift driving license. Houdini wastes some time with idle chitchat and then eventually obliges.
"It's miserable," Lasley says. "You're in this pretend game and it's so intense. You're trying to make this stupid, fake cart and nothing goes right. You get yelled at and have accidents, and it's this really emotional experience." The last time Lasley took the course, someone quit after that first three-day period of torture.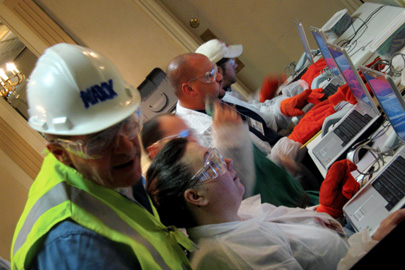 As silly as it may sound, the course reveals a grand psychological dance. The oil slick, for example, repeats again and again. The participants rush around trying to figure out the fastest way to clean it up, requesting cones to mark off the dangerous spill so people don't slip, asking for scrubbing kits and having the paperwork on hand to deal with any medical emergencies. They get very proficient at cleaning up the mess but never bother to figure out why the spill is happening in the first place, day after day. "Everyone wants to be the hero and solve the crisis in the moment," says Joe Sahiouni, a local executive who has worked at a variety of automotive and manufacturing companies. "You have people running to put out the fire but not thinking how to prevent it."
Nivi and his team seem to have nailed the psychological transformations the attendees will experience. At one point, for example, Mad Max dresses up as Harry the Quality Expert, a crusty old manufacturing veteran with a hunched back, big wad of chew in his cheek, and pants hiked up to his waist. The Pendaran staff predicts that Harry will be rejected by the group. Seconds later, Harry walks into the room. The trainees stare at him and then two of them physically push him out the door without ever talking to him. I'm baffled, but Pendaran co-founder Carol Michaelides tells me the same thing happens every class. "It's because he looks and talks weird," she says. "He's very experienced and has the answers to fix their low quality scores, but he's different and they think he will mess things up."
In debriefing sessions, Sahiouni, who was taking the course, urges teammates to consider the root causes of their problems. For a couple of days, they resist; instead, they devise intricate plans to circumvent the rules and regulations in the factory. At one point, Mad Max tells the group to ask Alice the Operator for a company directory that will illuminate all the helpful characters they have at their disposal. One member of the group remembers to ask for the form but then forgets to tell the others she has it. On the whole, the trainees refuse to talk to each other during the sessions even though they're allowed to. "We don't place restrictions on them, but they impose them on themselves," Michaelides says.
Eventually, Sahiouni manages to persuade the group. "I had an advantage because I spent an hour driving home every day and debriefed myself about what was normal behavior and how to get to the bottom of things," he says. By the fourth day, the group has put up placards all around the factory to remind people about procedures. They hold meetings and perform safety checks for a few minutes before heading to the factory floor. They have developed a calm when dealing with problems, and the golf carts start being produced at high quality and a steady rate. "I've been through lean manufacturing and Six Sigma courses and all that," Sahiouni says. "That stuff is easy and fleeting. To really learn, you have to be in the pressure cooker and feel the emotion and have these approaches become natural behavior. This is how companies truly transform."
Lasley's company, Edw. C. Levy Co., helps steel companies turn slag material into cement, road paving, and other products. It has sent a few dozen people through the Pendaran program and noted a 60 percent to 70 percent safety improvement among those teams, which translated into a $1 million annual savings from higher productivity. Now the company looks to put the majority of its 1,800 people through the course. "The first three days may be the worst thing you can imagine, but then the clouds part and real change happens," Lasley says.
Before it's here, it's on the Bloomberg Terminal.
LEARN MORE